Gender equality forum brings women (and a few men) together
While the President of the United States is busy rolling back protection for women workers and defunding the UN Population Fund, north of the border, a room full of women gather in Toronto to engage in learning and discussions about solutions for gender equality, a topic that is not going away anytime soon.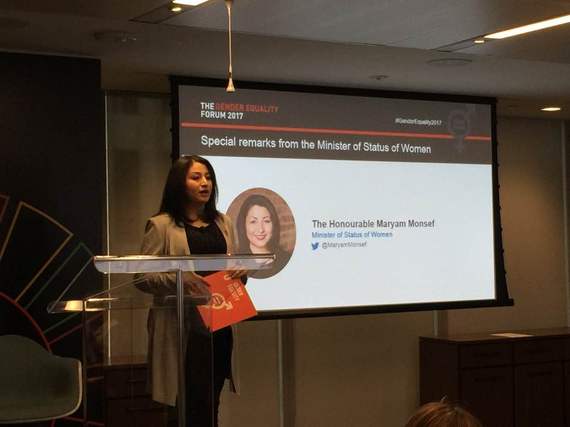 The Honourable Maryam Monsef, Minister of Status of Women of Canada
After millions of women and men marched last January in solidarity across the U.S. and around the world, out of both concern and inspiration of what the future holds, it has never been clearer that women are on the rise. While the collective voice of women – and men – is greatly needed, we still need organizations to lead the charge and set the agenda to advance gender equality and take action for any meaningful transformation with real staying power. And that is exactly what happened on April 4th-5th in a conference room in Deloitte's swanky offices at Yonge and Adelaide Streets.
The Gender Equality Forum 2017 brought together women leaders in business, government, and UN agencies, to explore opportunities for partnership and collective action. It was organized by the Canadian network of the UN Global Compact (UNGC), a voluntary corporate strategic policy initiative for businesses that are committed to aligning their operations and strategies in the interest areas of human rights, labour, environment and anti-corruption; and spearheaded by Helle Bank Jorgensen.
Speakers included the Premier of Ontario, Kathleen Wynne; the European Union Ambassador to Canada, Marie-Anne Coninsx; and The Honourable Maryam Monsef, the Minister of Status of Women Canada, who began her inspiring speech by telling the group, "I'm here because I'm interested in a relationship." As it turned out, as she would later tells us, the relationship was with us.
"Canada can lead the world," said Minister Monsef, whose own personal story of being raised by a single mom to eventually becoming an MP – and beacon of light for all Canadian women – is in itself a dose of inspiration.
And while it was interesting hearing from a range of women (and a few men) speakers from NGO's and corporations about the challenges women face in the world, the solutions they are striving for, and their achievements, the most intriguing part of the forum was something we don't have enough of at women-themed events. It was a panel discussion of men who are interested, in earnest, in the advancement of women.
"Feminism is the greatest gift men ever received," said forum panelist Michael Kaufman, author and White Ribbon Campaign co-founder, upon noting the lack of men in the audience.
And so, my takeaway is this: there are visionary men who want to reach more men to get engaged and involved to advance women's interests. Let's find them! Kaufman offers some ways to do that, which I will leave with you:
1. Positive messages work better than negative. "Be the guy who interrupts sexist jokes."
2. Reach out to men with compassion and understanding, while challenging abuse.
3. Co-operation and outreach to happen at the community level.
4. Globalize men's voices – encourage other men.
Let's have more of this at women's empowerment events, please. And thank you.
Shannon Skinner is a Toronto-based, award-winning television and radio show host, international speaker, author and creator of ExtraordinaryWomenTV.com. For information on her speaking engagements and interviews, visit: www.ShannonSkinner.com and www.ExtrarodinaryWomenTV.com. Tweet to her at @Shannon_Skinner.