This Swiss female winemaker is trailblazing
Mathilde Roux, owner of Cave de L'Orlaya, is a winemaker in the Swiss region of Valais, a relatively small, but important wine region in Switzerland. At 29 years of age, this trailblazer is one of few female winemakers in the country.
I recently visited the Valais region of Switzerland to learn about Swiss wine. I've been fascinated with Swiss wine since my last trip to Geneva in 2014, and discovered that the Swiss only export a small portion of their wines, which means if you want to taste Swiss wine, you have to go to Switzerland. On my trip, I was scheduled to meet Mathilde and tour her vineyard and winery, but due to an unexpected schedule change, I was not able to make it.
So upon my return to Toronto, I did a Q&A interview with her to share on this blog. She is passionate about her business and an inspiring young woman.
Here it is – enjoy!
Mathilde Roux was born in France and grew up in the southern Côtes du Rhône, in Gigondas, where her parents were wine producers. At age 11, she moved to Switzerland with her family.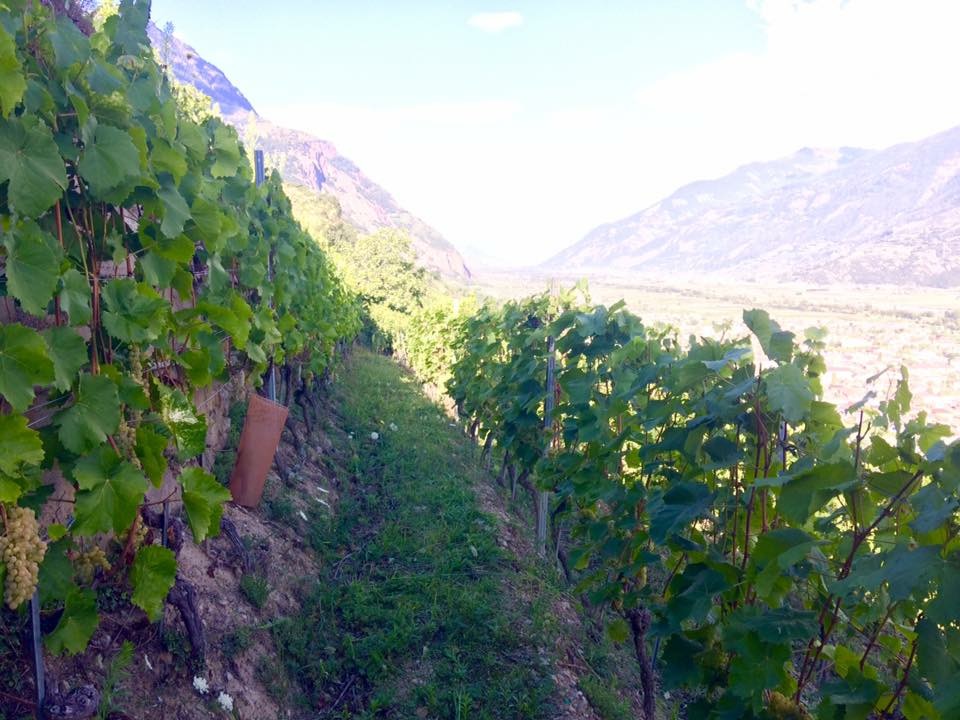 Roux's vineyards
As a university student, she obtained a Bachelor's degree in Life Science at EPFL and then studied at the Agronomy School of Montpellier and obtained a Master's degree in Wine and a National Diploma of Oenologist. After two internships in Côtes du Rhône, at the prestigious Châteauneuf du Pape (Clos du Caillou) and Tain l'Hermitage (Paul Jaboulet Ainé), she returned to Switzerland to work in the canton of Vaud and had several experiences in wine production (La Côte – Hammel, Lavaux – Raymond Chappuis, Chablais – Christophe Schenk). She also discovered some  winemaking methods by going abroad to New Zealand (Marsico Vineyard) and South Africa (Morgenhof).
Later, as fate may have it, through mutual friends she met the owner of the Cave Orlaya winery at the time, Gérard Roduit. She fell in love with Valais wines and so she decided to move to Fully in the Valais region and make fabulous wines that the Valais is known for. And so, in 2016, she purchased the Cave de L'Orlaya (8 hectares) cellar from Ronduit (he had three children who did not want the business) and she now manages it. Some of the grapes they grow include Petite Arvine, the signature varietal of the Valais region, Humagne, Gamay, Pinot Noir and others. She produces 65,000 bottles of wine per year.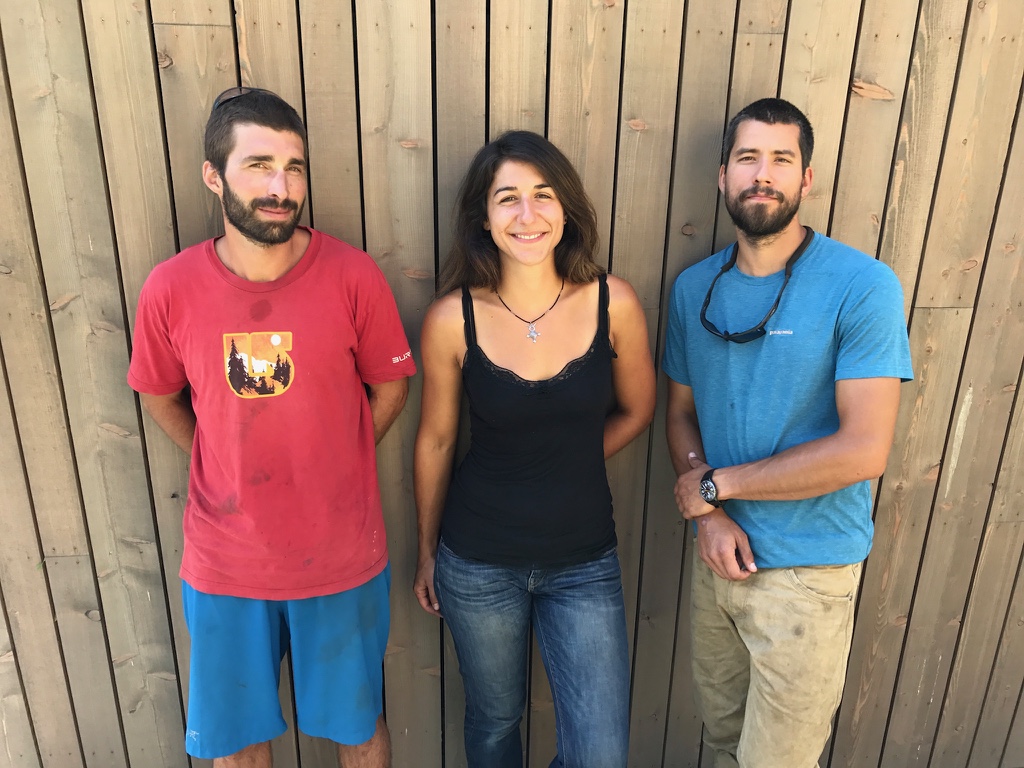 Mathilde with Paul Roduit (left), son of the previous owner, and boyfriend , Jan Počta (right)
SS: What inspired you to become a winemaker?
MR: As a kid, I was always outside playing in the vines and being around my dad. I can remember every time of the year with its (seasonal) ambiance. Harvest time, it was lots of work, but also there was so much exchange and partying. Winter, when he was traveling abroad to meet clients. Spring, when the new vintage started, and you are always outside – and summer. I saw that I loved the changes throughout the year and loved to make something from nature that you have to sell.
SS: What is your first memory of wanting to become a winemaker?
MR: The idea was never like a flash, but more like something that started naturally to be a wish. Seeing my dad and my mom all year working, I think I said to myself "this is what I want to do in life." Of course, it got reinforced with time when I started to taste wines.
SS: What makes your vineyard and winery unique?
MR: I don't know if it is unique, but I have a vineyard with steep slopes (up to 60%) and many local varieties (around 15 different ones). I bought a winery that is 35 years old in the middle of habitation, and I'm making lots of improvement renovations.
SS: How did you choose the kinds wines that you make?
MR: I think it is more about the terroir I chose. Here in Fully, we have granitic soil, which allow us to make wines with minerality and tension. So I try to respect this terroir and respect the grapes as much as I can to keep elegance and minerality in the wines.
SS: What is the biggest challenge you face in your business?
MR: I have a small winery and I sell everything myself, so the biggest challenge was to make myself a name and to find my own clients.
SS: What is it like to be a female winemaker in what is traditionally a male-dominated industry?
MR: I think nowadays it is okay. You still can have small "jokes" or remarks that are about our differences. It's usually not a problem now. It can also be a big advantage to be a lady because the public is really enthusiast about a lady winemaker and optimistic about us, which gives us good exposure.
SS: It isn't easy being a winemaker. Where do you find support to keep going?
MR: My family and especially my parents who know what I am going through. My boyfriend and some friends. Also wine producers in Fully are amazing and they have been supporting me a lot.
SS: I understand you have an interest in biodynamic viticulture and organic winemaking in the future. Could you explain?
MR: I am not exactly in biodynamic now. We will make a trial next year. We are almost organic. We will be probably be organic next year. This transition from traditional to organic (winemaking) needs a little bit of time to adjust.
For more information about Mathilde Roux and Cave de L'Ordlaya, or to contact her, visit her website.
# # #
For similar stories, read more about my travels through Switzerland:
7 Days in Valais, Switzerland: wine, cheese and marmots
Valais, Switzerland vineyard hike and wine festival
This Swiss Hotel and Thermal Park is ideal for wellness travel: review
Inside Switzerland's Kasperskian Caviar company: caviar with life
 Shannon Skinner is an award-winning host/creator of ExtraordinaryWomenTV.com, radio host, international speaker, author and travel journalist. She lives to travel the world, discover fine wines and write about it. Follow her on Twitter at @Shannon_Skinner.