The world's 10 happiest countries to put on your travel 'love list'
Would you visit the places where people are the happiest? As a traveller, this sounds ideal because while every country has its own beauty and hidden gems, it is always the people, to me anywhere, that make or break a trip.
This past Spring, Conde-Nast Traveler magazine put together a list of the 10 Happiest Countries in the World. This was based on the United Nations World Happiness Report. I've been to many of these countries and read this report when it came out, but after the story appeared in my Twitter feed over the weekend,  I decided to list them here for you, dear reader, to put on your 'love list.'

New Zealand (photo: John Tripperson)
So if you have not yet visited the happiest places on Earth, get to it!
1 Norway
2. Denmark
3. Iceland
4. Switzerland
5. Finland
6. Netherlands
7. Canada (woo-hoo!)
8. New Zealand
9. Australia
10.Sweden
As a Canadian, I am pleased to see Canada on the list. What stands out to me, though, is that the United States did not make the cut.
If you have a favourite spot in one of these top 10 happiest countries, tell me about it at @Shannon_Skinner.
Love xo
Shannon
Shannon Skinner is an award-winning television and radio show host and producer, speaker, author and travel writer.  For more information, visit: ExtraordinaryWomenTV.com and ShannonSkinner.com. Tweet to her at @Shannon_Skinner.
---
Visit Canada's UNESCO World Heritage Sites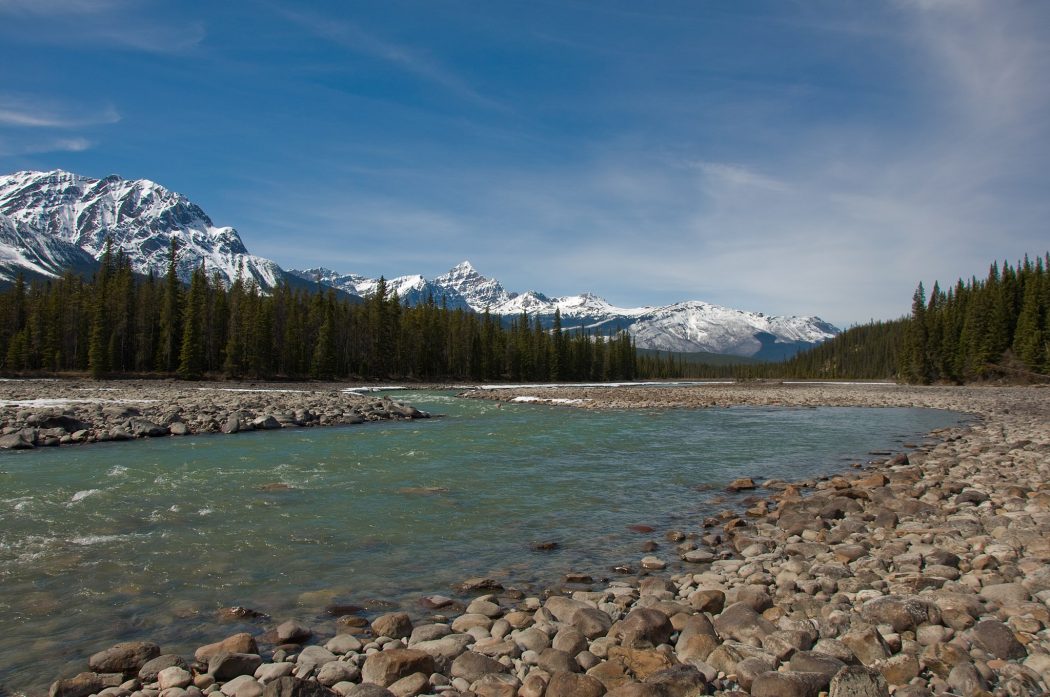 Canadian Rockies
Canada is now 150 years old. We might be a young country, but as a destination, we have many offerings for tourists. With ten provinces and three territories extending from coast-to-coast-to-coast, covering a vast 9.98 million sq. kms, Canada is the world's second-largest country by total area.
 What you might not know is that Canada has many UNESCO World Heritage Sites. UNSCO – the United Nations Educational, Scientific and Cultural Organization – recognizes world heritage sites that are of significant cultural or natural value. And we have plenty of them. Here is a list – so time to pack your bags and hit the road and see these amazing sites:
Canada's UNESCO World Heritage Sites
1. Canadian Rocky Mountain Parks, B.C. and Alberta: includes Banff, Jasper, Kootenay and Yoho national parks; and provincial parks Mount Robson, Mount Assiniboine and Hamber.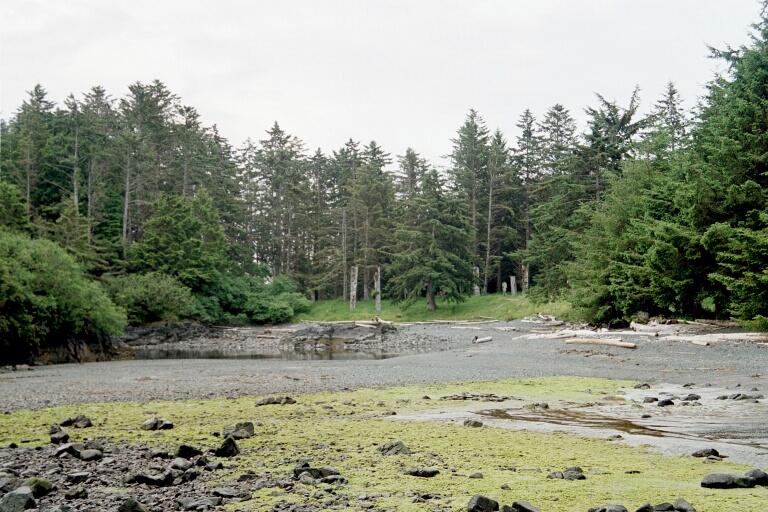 SGang Gwaay (credit: Grizzly01en)
2. SGang Gwaay, British Columbia: 19th-century Haida village.
3. Dinosaur Provincial Park, Alberta: located in the 'badlands' of Alberta where important fossils were discovered from the 'Age of Reptiles,' especially 35 species of dinosaur, dating back 75 million years.
4. Head-Smashed-In Buffalo Jump, Alberta: marked trails, an aboriginal camp and buffalo skeletons are what remain of a 6,000 year-old hunting custom.
5. Waterton Glacier International Peace Park, Alberta: the word's first international peace park, with stunning scenery.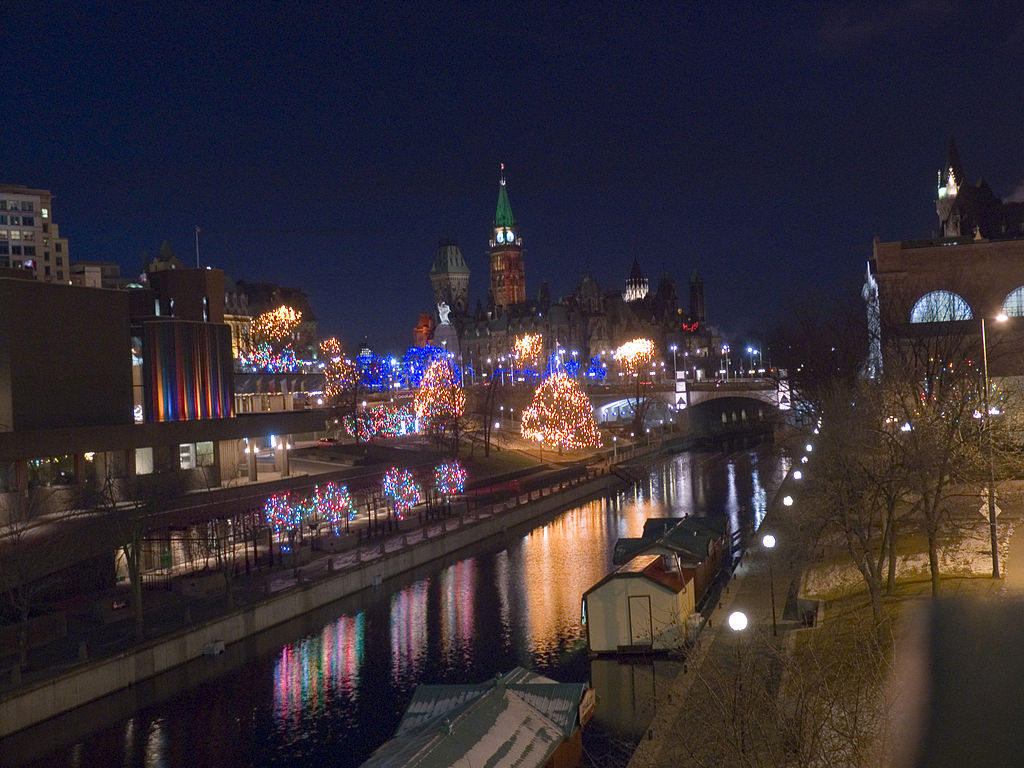 Rideau Canal (credit: John Talbot)
6. Rideau Canal, Ontario: a slackwater canal from Kingston to Ottawa, originally built for strategic military purposes.
7. Historic District of Old Québec, Quebec: a fortified colonial city founded in the early 17th century by French explorer, Champlain.
8. Miguasha National Park, Quebec: on the southern coast of the Gaspé peninsula.
9. Landscape of Grand Pré, Nova Scotia: marshland and archaeological site of the first European settlers in North America.
10. Old Town Lunenburg, Nova Scotia: British colonial settlement.
11. Joggins Fossil Cliffs, Nova Scotia: the "coal age Galápagos."
12. L'Anse aux Meadows National Historic Site, Newfoundland: remains of an 11th-century Viking settlement.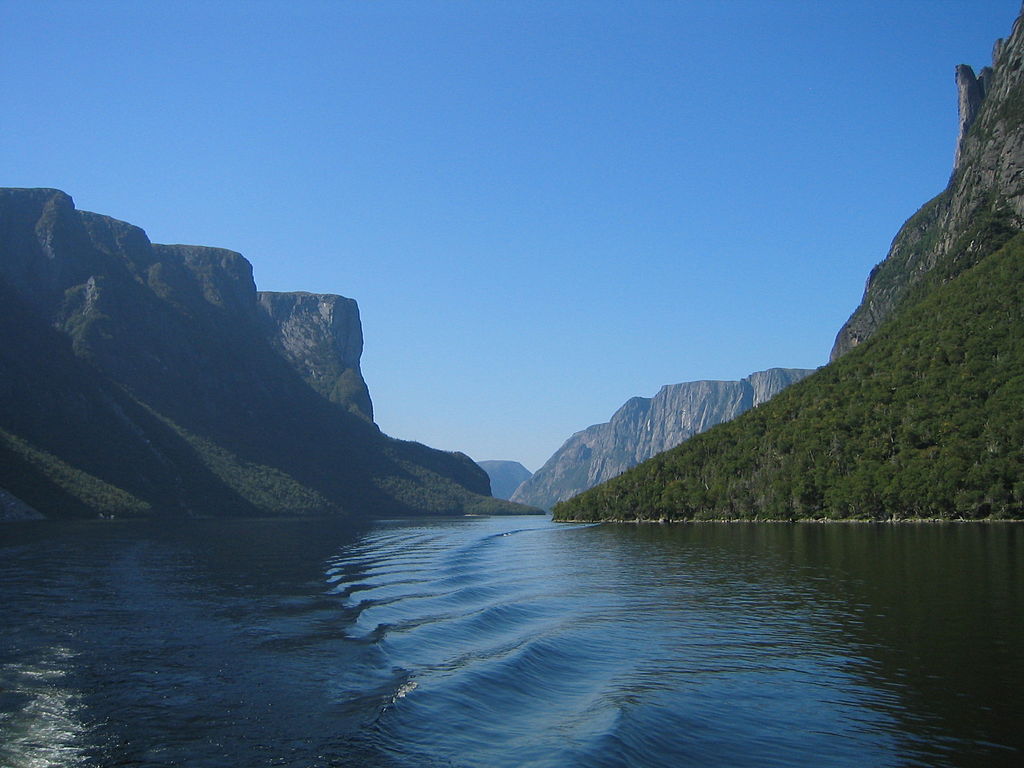 Gros Morne National Park (credit: jcmurphy)
13. Gros Morne National Park, Newfoundland and Labrador: spectacular scenery displaying some of the world's best examples of the process of plate tectonics.
14. Red Bay Basque Whaling Station, Labrador: archaeological testimony of a pre-industrial whaling station.
15. Kluane/Wrangell-St. Elias/Glacier Bay/Tatshenshini-Alsek, Yukon Territory, BC (and Alaska): Spectacular parks, contains the largest non-polar icefield in the world.
16. Mistaken Point, Newfoundland: rugged coastal cliffs that stretch 17 kms.
17. Nahanni National Park, Northwest Territories: one of the most spectacular wild rivers in North America, plus deep canyons, waterfalls, and a limestone cave system.
18. Wood Buffalo National Park, Northwest Territories and Alberta: home to North America's largest population of wild bison.
Canada. What's not to love?
If you have visited any of these sites, I would love to hear what your favourite spot is. Tweet to me at @Shannon_Skinner or leave a comment below.
Love xo
Shannon
Shannon Skinner is an award-winning television and radio show host/producer, international speaker, author and travel writer.  For more information, visit: ExtraordinaryWomenTV.com and ShannonSkinner.com. Tweet to her at @Shannon_Skinner.
++
Source: compiled from UNESCO World Heritage List.
Photo credit: Rockies – popejon2, Paddington, Australia (via Wikimedia Commons)
---
Gender equality forum brings women (and a few men) together
While the President of the United States is busy rolling back protection for women workers and defunding the UN Population Fund, north of the border, a room full of women gather in Toronto to engage in learning and discussions about solutions for gender equality, a topic that is not going away anytime soon.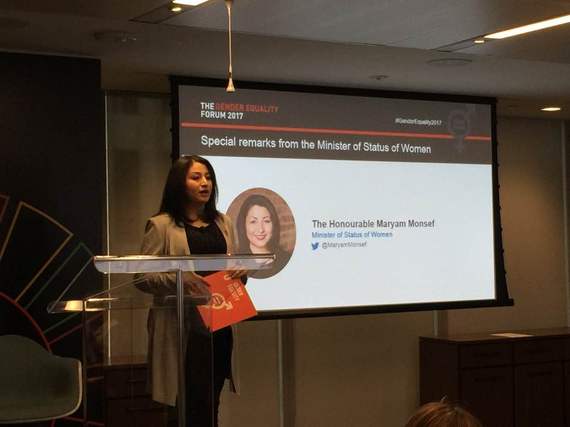 The Honourable Maryam Monsef, Minister of Status of Women of Canada
After millions of women and men marched last January in solidarity across the U.S. and around the world, out of both concern and inspiration of what the future holds, it has never been clearer that women are on the rise. While the collective voice of women – and men – is greatly needed, we still need organizations to lead the charge and set the agenda to advance gender equality and take action for any meaningful transformation with real staying power. And that is exactly what happened on April 4th-5th in a conference room in Deloitte's swanky offices at Yonge and Adelaide Streets.
The Gender Equality Forum 2017 brought together women leaders in business, government, and UN agencies, to explore opportunities for partnership and collective action. It was organized by the Canadian network of the UN Global Compact (UNGC), a voluntary corporate strategic policy initiative for businesses that are committed to aligning their operations and strategies in the interest areas of human rights, labour, environment and anti-corruption; and spearheaded by Helle Bank Jorgensen.
Speakers included the Premier of Ontario, Kathleen Wynne; the European Union Ambassador to Canada, Marie-Anne Coninsx; and The Honourable Maryam Monsef, the Minister of Status of Women Canada, who began her inspiring speech by telling the group, "I'm here because I'm interested in a relationship." As it turned out, as she would later tells us, the relationship was with us.
"Canada can lead the world," said Minister Monsef, whose own personal story of being raised by a single mom to eventually becoming an MP – and beacon of light for all Canadian women – is in itself a dose of inspiration.
And while it was interesting hearing from a range of women (and a few men) speakers from NGO's and corporations about the challenges women face in the world, the solutions they are striving for, and their achievements, the most intriguing part of the forum was something we don't have enough of at women-themed events. It was a panel discussion of men who are interested, in earnest, in the advancement of women.
"Feminism is the greatest gift men ever received," said forum panelist Michael Kaufman, author and White Ribbon Campaign co-founder, upon noting the lack of men in the audience.
And so, my takeaway is this: there are visionary men who want to reach more men to get engaged and involved to advance women's interests. Let's find them! Kaufman offers some ways to do that, which I will leave with you:
1. Positive messages work better than negative. "Be the guy who interrupts sexist jokes."
2. Reach out to men with compassion and understanding, while challenging abuse.
3. Co-operation and outreach to happen at the community level.
4. Globalize men's voices – encourage other men.
Let's have more of this at women's empowerment events, please. And thank you.
Shannon Skinner is a Toronto-based, award-winning television and radio show host, international speaker, author and creator of ExtraordinaryWomenTV.com. For information on her speaking engagements and interviews, visit: www.ShannonSkinner.com and www.ExtrarodinaryWomenTV.com. Tweet to her at @Shannon_Skinner.
---
Highlights from La Ronge, Saskatchewan
This week, I had the pleasure of speaking at a conference for women in La Ronge, Saskatchewan, my home province. The conference was organized by Visions North Community Futures and focused on providing women with skills and tools to help them in their work and personal lives. It was nice to be back in my home province and especially fantastic to visit La Ronge, which is the most northern destination in Canada I have traveled to. Before I gave my talk, in the wee hours of dawn, I managed to capture Lac Range in all its glory.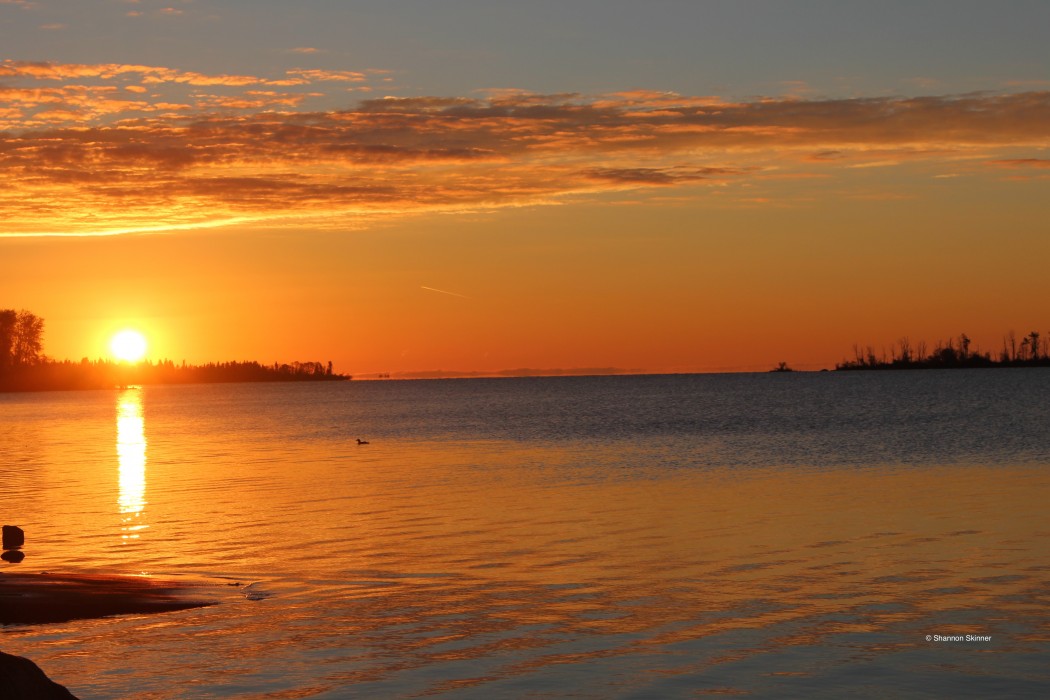 Sunrise over Lac Ra Ronge. Is there nothing more inspiring than watching the sun, the very thing that gives us life and energy? The sunrise over the lake is stunning.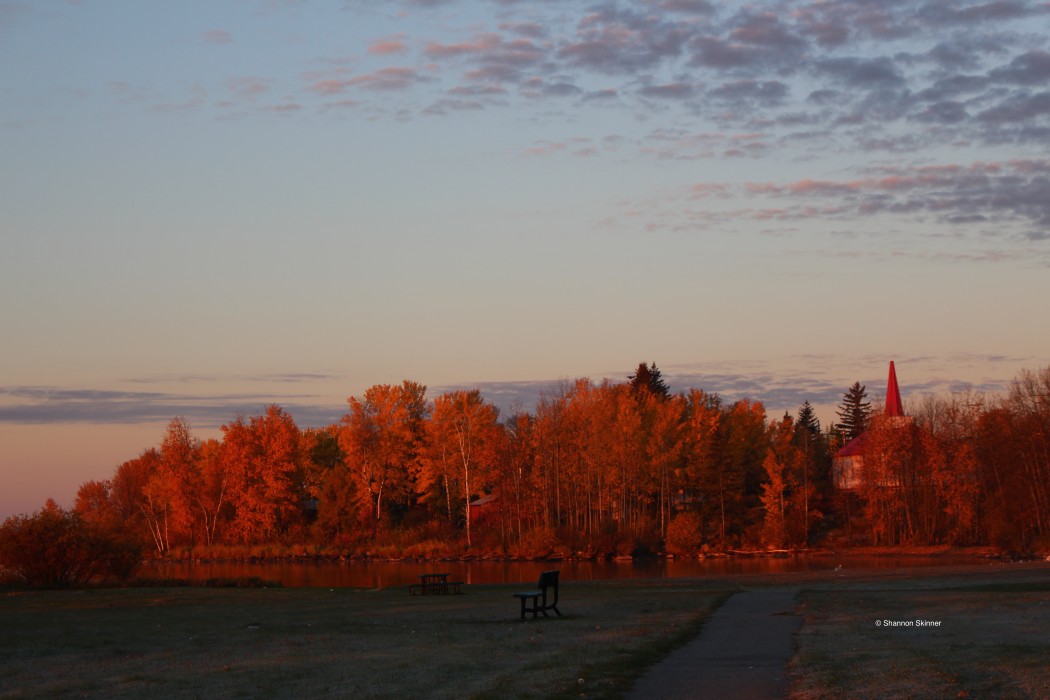 Trees glowing along Lac La Ronge at sunrise
La Ronge is the southern most point in Canada's Far North where the paved roads end and, well, after that you are on your own.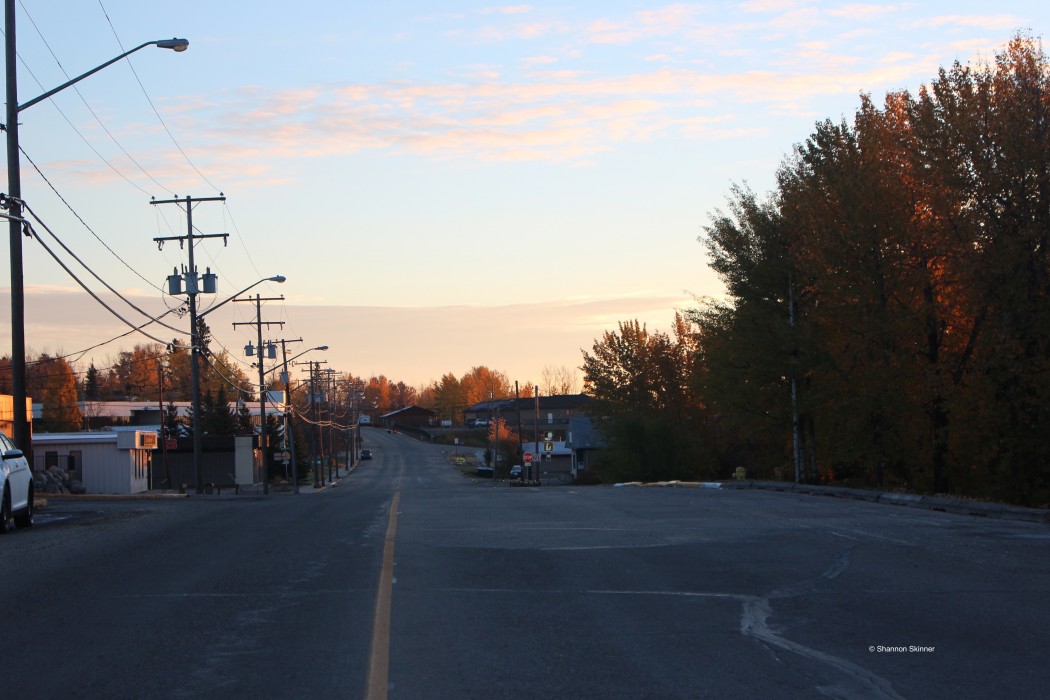 La Ronge has a large First Nations community and the richness of the culture can be experienced from the people, in nature, and also in the local art. This sculpture stands in a park along the lake, as was also captured at sunrise.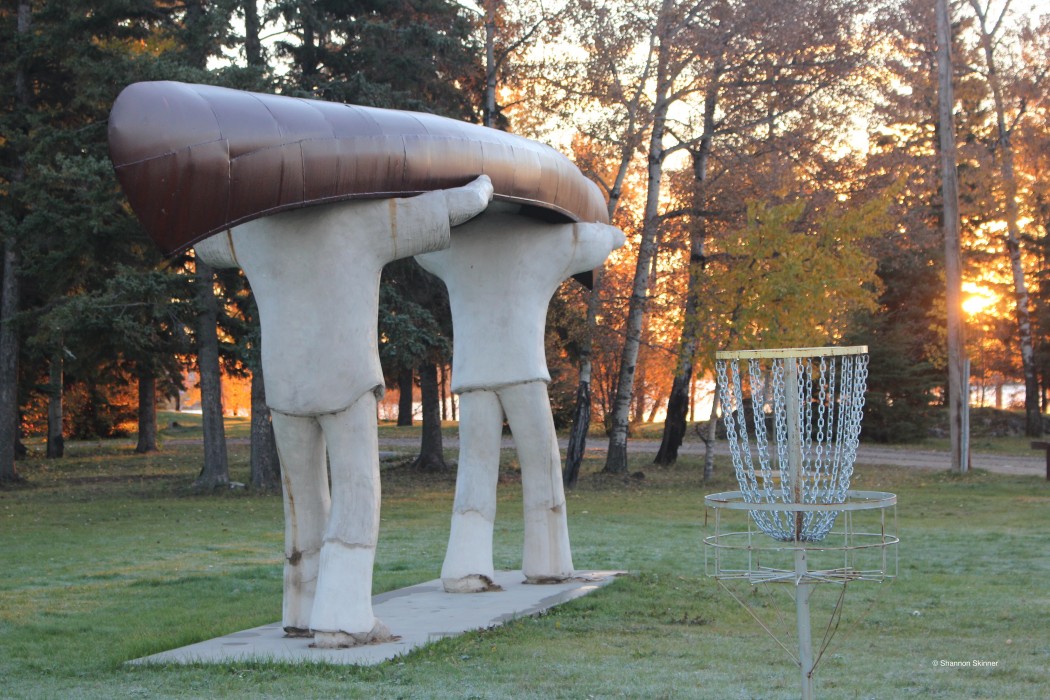 ---
An open letter to Prime Minister Harper: Let Them In
DEAR PRIME MINSTER STEPHEN HARPER:
Let in the people who need our help. Every human has value and can make a contribution to our society.
For instance, Canadian businesswoman, Vian Sharef, whose family fled war-torn Iraq when she was a teen and lived in a refugee camp for 3 years in Turkey, while waiting to be accepted in Canada. She walked for days without shoes. When most teens here might be playing sports or partying, or whatever freedom offers, Vian was helping to translate, communicate and nurse people with burns and such in a make-shift hospital in the camp. She was learning to be of service. Later, after coming to Canada – with nothing – Vian put herself through school while working full-time and then, as a single mother, started her own business (http://www.dermedix.ca/) – and has become a Canadian success story.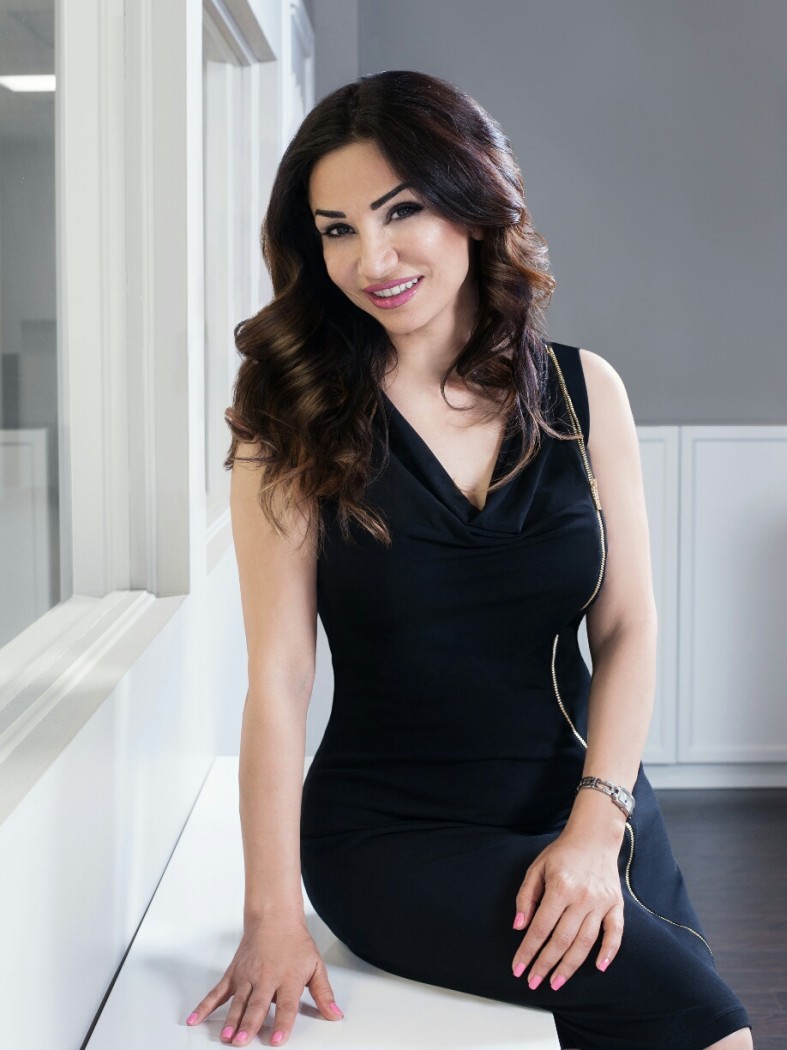 Today, Vian Sharef is helping many women with their skincare and helping them to feel and look their best (including me). She has created jobs. She works hard and long hours. She is progressive. She is giving back to the society that accepted her. She continues to make a contribution to Canada.
There are many others like Vian.
Let's open our hearts to the people who are fleeing dismal circumstances and let them in. Instead of being fearful of "what they are taking away from us," let's focus on the gifts they have to offer.
If you want to learn more about Vian's story, listen to the interview I did with her here: http://www.voiceamerica.com/…/86027/beauty-and-anti-aging-s…
---
Tonight on Shannon Skinner Live: anti-aging secrets with beauty expert Vian Sharef
FOR IMMEDIATE RELEASE
TORONTO, June 16, 2015 — Tonight on Shannon Skinner Live radio show, host Shannon speaks with beauty expert and owner of Toronto-based Dermedix Laser Clinic, Vian Sharef, about beauty and anti-aging secrets. Tune-in to VoiceAmerica Women at 7pm EST/ 4PM Pacific.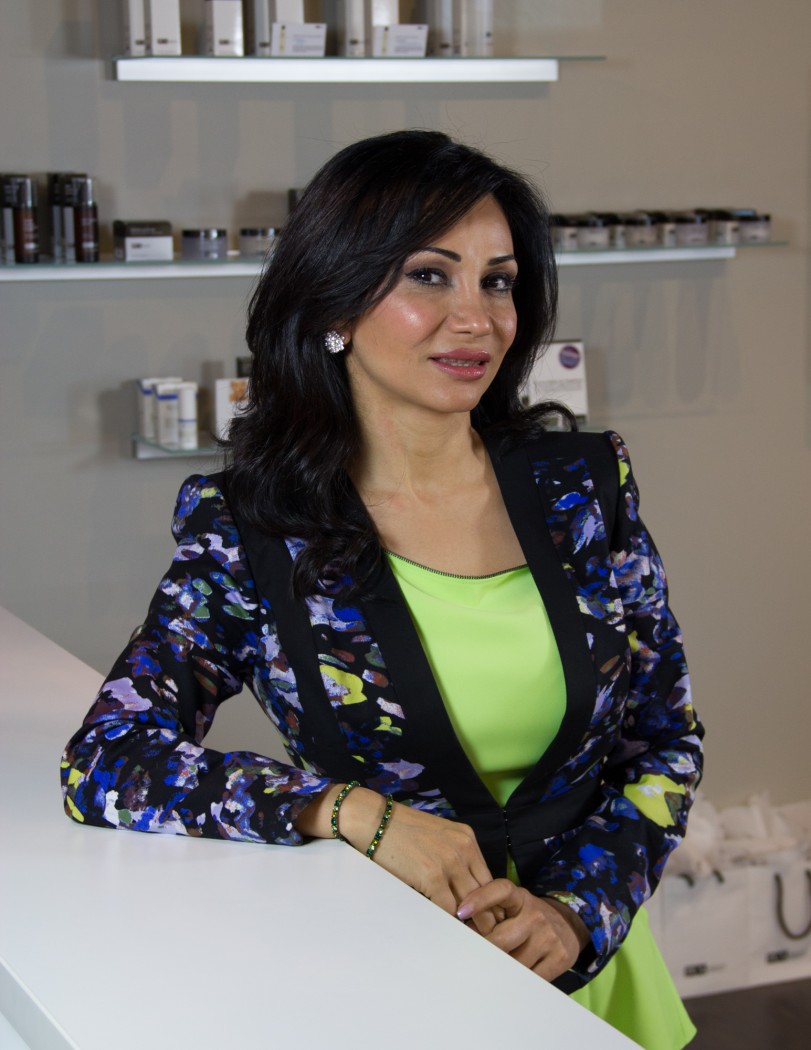 Vian Sharef, owner, Dermedix Laser Clinic
Shannon Skinner Live is a weekly radio show that uncovers the stories and solutions to living an extraordinary life and making this world a better place. It features interviews with experts, visionaries and activists, and more.
About Vian Sharef:
Vian Sharef is a single mother, beauty expert and the founder and owner of Dermedix Laser Clinic, based in Toronto. Born and raised in Iraq, Vian came to Canada as a teenager with her family, after living in a refugee camp for 3 years in Turkey. She would eventually achieve a successful career in the financial services industry  – and get married. Later, in 2008, life would have its challenges again. Vian lost her father, job and her marriage disintegrated within 6 months, and, as a single mother to a young daughter, she made the decision to go back to school to study medical aesthetics. Today, she is a successful businesswoman and has helped thousands of women and girls look and feel their best.
About Shannon Skinner:
Shannon Skinner is a Canadian television talk show host, speaker and writer. In 2010, she launched Shannon Skinner's Extraordinary Women TV, the first of its kind, as a live web TV show, and later developed it into an broadcast television show and online platform that is the ultimate online life-guidance resource for women. She is the author of the Whispering Heart: Your Inner Guide to Creativity; and she writes on a range of topics, including creativity, inspiration, feminine leadership, change and travel.
---
Missing lipstick, an ex-Prime Minister and me
On Friday night, I had the privilege of attending a fundraising event — the 86th Annual Boat Race Gala —  in support of creating scholarships to send Canadian students to Cambridge and Oxford universities. The event featured guest of honour, former Canadian Prime Minister, the Right Honourable Paul Martin. A scholarship was created in the name of Mr. Martin's father (also named Paul Martin), who was a Cambridge graduate – also a remarkable Canadian. It was an evening to celebrate.
Hosted and organized by the Oxford and Cambridge Society of Toronto, which comprises alumni from the respective universities, the gala was well-attended by dignitaries, business leaders and many others. Also in attendance (although I didn't see him) was former Prime Minister, John Turner.
After spending the day at previous engagement, Ignite 'n' Connect, where I had the honour of introducing keynote speaker Rona Maynard, former editor of Chatelaine, and led discussions on how women entrepreneurs can get publicity and raise their profiles in the media, I was ready to let my hair down — literally.
Just prior to the gala, a brief stop at my hair salon enabled my hair to miraculously grow six inches in about 45 minutes. Armed with a brand new MAC lipstick that I recently purchased and donning a violet silk dress, I felt ready to take on the world.
I also felt inspired, and humbled, to be part of a mix of highly educated, well-heeled people who are raising funds to send Canadians to these distinguished universities. I had the privilege of attending the creative writing program for the summer at Oxford University a few years ago. It was one of the best things that has happened to me — and I would love for others to have a similar experience. So, I wanted to do my part to give back.
In the Royal York Hotel's ballroom, everything was perfect: the speakers, the decor. However, after dinner, I found myself in a swirl of a crisis: I discovered my new trusty lipstick was – gasp – missing from my clutch bag.
If there is one pet peeve I have it is this: losing a new lipstick (I only wear MAC) and having to replace it, because this means I have to pay twice for the same thing. And, hey, MAC lipstick isn't cheap. But more than the cost, it means I have to take precious time out of my day to go back to a store, making the trip twice — doubling my efforts. Plus, I usually end up buying something else I likely don't need, but, I digress.
Okay, so this is not a catastrophe or a crisis that will end the world, but it annoys me. On the flip side, I also know I've contributed to helping people living with HIV/AIDS, with MAC's special Viva Glam line that raises money for the cause ($900 million, apparently), so there is a benefit.
Back to the story…
Where's my lipstick?!!…
So, after dinner I was on the hunt for MAC Viva Glam V, certain it tumbled out of my clutch and was lying on the floor just waiting for me to find it. On my path, as my eyes searched the carpeted floor for the little black tube in the shape of an over-sized bullet, were a big pair of very nice shoes. When I looked up, waaay up, attached to the shoes stood the man who made news for years and whose face I knew well: former Prime Minster, Paul Martin. Up until this moment, he was surrounded by other guests. Now here I was, a bit surprised that I — suddenly — had him all to myself.
Feeling a sense of panic, I did what any extroverted-introvert –or a shy extrovert — would do: I introduced myself.
I didn't know what to say, really. So I told Mr. Martin about my platform Extraordinary Women TV, how it is the first-of-a-kind show in Canada, that I've interviewed more than 130 women, mostly Canadian, so far. His smile stretched from ear-to-ear, he then reached out his hand and shook mine with the kind of energy that said something like: That's great! I'm proud you — kinda like a dad might do.
I quickly remembered to not put myself on a pedestal, or the fall will be painful, and that I must immediately humble myself. So, my thoughts returned to my lost lipstick. Suddenly feeling self-conscious, I realized I must not have had any lipstick on, likely having consumed what I did have on my lips along with my meal. Without lipstick, I felt naked standing in front of one of our country's former leaders.
Where's my lipstick?!!…
My eyes glanced back to the floor around Mr. Martin's feet, just in case it was there.
No sign of MAC Viva Glam V.
Now, I know from experience that people in Mr. Martin's position are in great demand and usually when people approach them it is because they want something from them; either their time or money, or they want to chew them out. Not that there is anything wrong with that, because, well, that's how we get things done.
Instead, while I had our former Prime Minister in my orbit, my intuition told me to say just two small words that summed up my gratitude for what he has done for Canadians, for my family and for me. So, I said: "Thank you."
Mr. Martin's body language told me he felt relaxed (probably more like phew, she's not hitting me up for anything or wanting to tell me off) and he just smiled and told me he appreciated it, and off he went to speak with other guests.
And so, my search continued for my lipstick.

In the end, I never did find my lipstick. But, I did get a lesson. And the lesson was this: everything happens for a perfectly good reason. Looking for missing lipstick just might land you in the orbit of a world leader.
Have you had any interesting stories about losing, or finding, lipstick?
© Shannon Skinner 2012
---