Travel Roundup: packing tips from experts

What they make you do with your feet at the Taj Mahal
Once upon a time, I had it in my mind that I was an expert travel packer, having been a traveller since the age of 19 years old, schlepping bags all over the world. That is, until my last trip to the great city of Saskatoon, Saskatchewan to attend my nephew's wedding.
On this trip, I thought I was being smart by packing a simple black dress. Upon unpacking, I discovered I brought the same simple black dress I wore to my other nephew's wedding. Not only that, I doubled the number of shoes I needed for the weekend, and forgot my toothbrush.
So much for being an expert.
"On your trip you'll meet two kinds of travelers: those who pack light and those who wish they had." ~ Rick Steves, travel expert
Here's a roundup of what travel experts are advising for packing for trips.
1o packing tips from a travel pro for a best-case scenario, Tara Donaldson, CNN
7 things that make packing easier, according to travel experts, by Rosie Fitzmaurice, Business Insider
10 Packing Tips Every Traveler Should Know, by Caroline Costello, Smarter Travel for USA Today
Tips for Choosing the Best Travel Bag, by Rick Steves
Packing List for Women, by Joan Robinson at Rick Steves
60 Packing Tips (a collection from experts), by Travel Fashion Girl
15 Smart Ways to Achieve Packing Perfection, by Kris Wetherbee, Woman's Day
What is your best travel packing tips? Tweet to me at @Shannon_Skinner.
Love xo
Shannon
Shannon Skinner is an award-winning television and radio show host, speaker, author and travel writer.  For more information, visit: ExtraordinaryWomenTV.com and ShannonSkinner.com. Tweet to her at @Shannon_Skinner.
---
INTERVIEW: Heather Sinclair, Web Stores Canada
I have a growing appreciation for the online shopping industry. Time is something people don't have, so any business that can cater to providing convenience has a leg-up in this crazy busy world. There are a growing number of entrepreneurial visionaries who recognize this.
Enter, Heather Sinclair.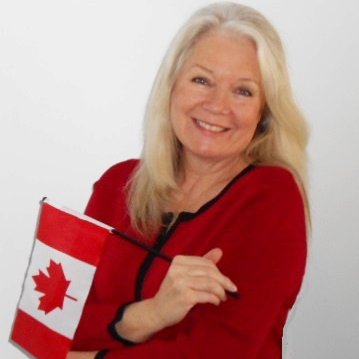 Heather Sinclair is the owner of Web Stores Canada, an umbrella name for her online shopping mall websites, which includes OnlineShoppingMallCanada.ca, and other sites such as CyberMondayDeals.ca and BlackFridayDeals.ca. For the past five years, Sinclair, along with her husband, Bill, has been building the business of the future. Her online mall has many of the big brands you know and trust. It's like having your favourite shopping mall under one website banner – where you can shop from the comfort of your kitchen table.
Online shopping is undoubtedly growing, with Canadians spending $136 billion last year alone. That's a lot of dough.
Sinclair has been an entrepreneur since she was 18. She began modelling, until the age of thirty five, and in 1996, she started her first online business, which was listed as one of the top on Yahoo (among other sites). She has been a successful real estate agent and has been ranked in the top 100 agents in Toronto. But it is her online shopping business that is her passion. With that infectious passion, her husband, Bill, left his government job and joined his wife in her venture.
I was curious about what it takes to have a successful online business. Sinclair provides some insight:
What's the key to having a successful online business?
The key to this business is to not be gimmicky. Give the Canadians a smooth shopping experience they can trust with the online stores themselves who really care about customer service and their customers.
What does the future hold?
The trend for online shopping by Canadians is growing. Every week there are more brick and mortar stores applying to be part of our online mall.
The younger generation will grow into shopping online for most goods, and view going to the bricks and mortar mall as a social outing,  rather than for the day to day needs. Groceries, diapers and other goods will also be shopped for online and delivered to the door.
Curious, I wanted to know what some of the insights are to having a successful online business.
What are you marketing strategies?
Social, Facebook, Pinterest, Twitter, Google+ and even You Tube.
* * *
If you have a online shopping business success story, I'd love to hear from you.
---
Season 3, Episode 4 airs tonight on Extraordinary Women TV on Rogers TV
FOR IMMEDIATE RELEASE:


TORONTO, Nov. 18, 2014 – Season 3, episode four, of Extraordinary Women TV with Shannon Skinner airs tonight featuring special coverage and interviews from the Canadian Beauty Innovation Awards. Shannon speaks with Natalie Lewis, founder, Canadian Beauty Innovation Awards; Linda Leatherdale, VP Marketing and Business Development, Cambria and financial columnist; Mary Tripi, hair stylist icon and entrepreneur; and Academy Award-nominated actress and wellness advocate, Mariel Hemingway. Also featured are interviews with founder and executive director, Re-Think Breast Cancer, MJ DeCoteau; and renowned Toronto artist, Beverley Jenkins.
The show airs tonight at 7pm ET on Rogers TV Cable 10/63 in Toronto/Scarborough.
The show aims to empower women get their dreams into action by providing the tips and tools from some of today's most extraordinary women. This season, Shannon goes on-location around the city of Toronto to speak with women from a range of pursuits about their passions and challenges — and how they overcome them.
Now in its third season on Rogers TV, the television series began as a live web TV talk show for women in Canada, and has grown into an inspirational, relevant and informative resource for women who want to follow their hearts and dreams, and live extraordinary lives. In January 2013, the show began airing on Rogers TV in Toronto/Scarborough, with 46 episodes being produced and aired over the first two seasons. The show has also aired in several other Rogers' Ontario markets. And last season featured the "Woman to Watch" regular segment.
Shannon's guests are women from all walks of life and industries, including: arts and entertainment, business, charities, media, sports, experts – and more. Some past notable guests include: entrepreneur Debbie Travis; singers Jully Black and Sarah Slean; philanthropist, The Hon. Margaret McCain; dean of law faculty at the U of T, Mayo Moran; fashion designer and Canadian icon, Linda Lundstrom; president/CEO, ROM, Janet Carding; Rebecca MacDonald, founder, Just Energy; actress Sarena Parmar; Plan Canada's president/CEO, Rosemary McCarney; among many others.
Nearly 300 episodes have been posted and archived on the web for public access since its inception in September 2010, when it began as a live web TV series, and 52 episodes have been produced to-date for Rogers TV. Extraordinary Women TV is produced and owned by Shannon Skinner and Comfy Chair Productions Inc., and is filmed in Toronto.
Rogers TV Toronto's full scheduling information: click here.
---
Inside The Private World of Mary Tripi
The moment we make the decision to pursue a dream or inner calling, we probably have no idea how long and far that journey will take us. Or how long the passion will last, given passion's "ebb and flow" nature. Besides, creating value in this world takes time and space. This morning, I was reminded of that because I realized it was one year ago when I first met, and subsequently interviewed, one of Toronto's iconic women entrepreneurs and hair stylists, Mary Tripi, who at 74 years of age was starting a new business adventure — and I was starting a new dream for myself.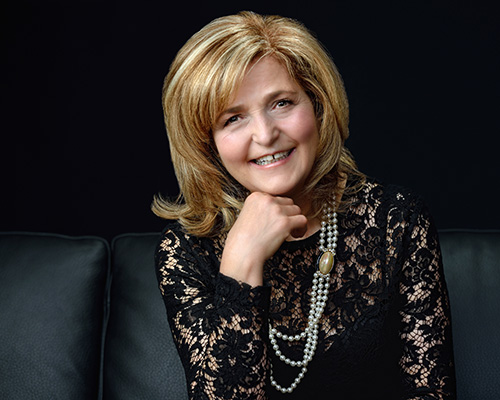 By the time most people reach their early 60s, on average, they begin winding down their work life in favour of retirement. But, at 74 years — more than a decade past the median retirement age for most women (61.4 years, according to the CBC), Tripi was gearing-up her business and opening a new salon in Toronto. In the time I had spent with Tripi, what I discovered was a woman who has no intention of slowing down any time soon, but has a vision for herself that is fully alive and crystal clear.
I discovered one other thing: what I want to be when I grow up.
Now I am not talking about starting an avant-garde and cutting-edge salon business — that's not my forte. Surely people would not pay me to give hair design advice. What I am talking about is continuing to live my passion with unstoppable energy and creativity, and maintain a youthful presence — well past the age of retirement.
Like Mary Tripi.
"Every person is beautiful." – Mary Tripi
Born and raised in Greece, it was at the young age of 14 when Tripi began her study of hair design. Three years later, she moved in Canada, bringing with her a unique vision forged from her European training and her personal creative energy. She launched her career in Toronto's Forest Hill neighbourhood before opening her first midtown salon in 1962, and quickly made a name for herself as an innovator in hair design. Constantly challenging herself as an industry leader, she is inspired by her clients to continue developing new creative approaches. Tripi has been named to several prestigious associations, including the Guild of Hair Design and Style Directors Committee, and she was honoured to represent Canada at the Intercoiffure in Paris.
Inspiring her son, Nicholas Vrettakos, who spent many days as a young boy in her salon absorbing the creative energy and vision, Nicholas learned the tricks of the trade, becoming a leading colorist in his own right, and eventually joined Tripi's business, The Private World of Mary Tripi (the name is inspired by a friend's New York-based salon many moons ago).
When the opportunity arose this past year to move her Yorkville salon, The Private World of Mary Tripi, to another location (also in Yorkville), she used that opportunity to innovate, again. True to her visionary and forward-thinking nature, the new salon includes the addition of Studio Beauty 890, a chic and modern full-service beauty boutique, in partnership with beauty expert, Cheryl Gushue.
Upon delving into Tripi's business philosophy, in a world where fashion and lifestyles are constantly shifting, it became apparent that it reflects her personal inner values. Says Tripi, "Your hair expression should reflect these changes and move in parallel with them. I believe there is beauty and style to be found in every woman. The stylist's final decision should be a mirror image of your individual personality and lifestyle. I create a look designed to bring that out in each of my customers."
As Tripi continues to impact the lives of many women and men in Toronto, and creates her legacy, at the heart of her passion is a desire to inspire our city's youth to not only look and feel their best, but also to be empowered and follow their dreams.
I want to be like Mary Tripi when I grow up.
To learn more about Mary Tripi and the keys to her success, check out my interview with her on Extraordinary Women TV.
---
Interview: Urban Native Girl blogger, Lisa Charleyboy, on empowering Canada's Aboriginals [video]
One of the things I love the most about interviewing extraordinary women is uncovering the moment or event that put them on their path, leading to the point where they are today. In some cases, it was a turning-point event in their lives. For others, their journey began as a deep creative desire at an early age.
For Lisa Charleyboy, a Toronto-based Aboriginal writer and blogger who is dedicated to inspiring and empowering other young Aboriginal people to follow their dreams, it was at the age of 10 when she picked up a copy of Vogue magazine that created a deep love of writing and fashion. At 17 years of age, she made a decision to follow her dream. So left her home in Abbotsford, B.C. and headed across the country to Toronto, to begin her studies in fashion communication.
It was while studying writing at York University that she discovered a deep passion for something that touched her even more deeply: her Indigenous roots — and that connection to culture. In 2007, Lisa blended all her passions and launched her popular blog, Urban Native Girl,  (now called Urban Native Magazine), covering pop-culture with an Indigenous twist. Her new magazine is in the beta stage and most certainly looks promising.
Charleyboy has taken an active role in the community, having served as a board member for Association for the Native Development of Visual and Performing Arts (ANDVPA), the Young Indigenous Professionals, and now the Director of Communications for the Aboriginal Professionals of Canada (APAC). She has also been invited to give talks at Harvard University and to Aboriginal Women Entrepreneurs, and has become a regular writer/contributor and guest in the media.
To discover more about this inspiring young woman and what she is doing to empower Aboriginal Canadians, I invite you to watch my interview with Lisa Charleyboy on Extraordinary Women TV:
Extraordinary Women TV with Shannon Skinner airs Mondays at 7pm ET on Rogers TV Cable 10 & 63 in Toronto/Scarborough. View it online at ExtraordinaryWomenTV.com.
---
GUEST BLOGGER: My summer internship inspired me to follow my dreams, by Carina Korab
If I said applying for your first internship is a breeze, I wouldn't be telling you the truth. The key is to start early, interview at a variety of places and be prepared. Researching companies and their work is just one ingredient to a successful interview and possibly the gateway to your first internship or job placement. Contacting an employee to help mentor you, keeping up-to-date with their social media, and prepping your top qualifications also can't hurt. As well as exuding as much confidence and charisma as possible to dazzle your interviewers, of course!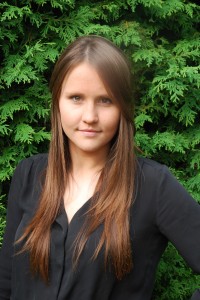 Midway through my second year at Queen's University, I thought it would be a fantastic idea to dive into my desired career path during the summer months. I'd be soaking up the experience of an internship and not those harmful UV rays this summer.
Around the Christmas holidays, I began connecting with companies about job placements and internships and found it seemingly difficult, having hardly any connections under my belt. I had completed an internship in the previous summer at a bio-medical company called Fluoron, located in Munich, Germany. However, in today's competitive job market, employers are looking for the most skilled and highly developed candidates, even for internships.
After some minor struggles and a few nerve-wracking interviews, I was pretty confident that I had done my best to impress.
Back at school in February, I remember getting the call: I had landed my first PR internship with Shannon Skinner. As the host of Extraordinary Women TV with Shannon Skinner and a PR professional of 20 years, I knew that working for Shannon would be a great opportunity for me to gain experience in the public relations world and develop a range of skills for the future. I was ecstatic.
My summer could not have begun in a better way: blending both my fashion and PR passions. I have been working part-time as a stylist for Club Monaco, and also working as the media and guest relations co-ordinator (intern) for Skinner Publicity and Shannon Skinner's Extraordinary Women TV. Looking back on it now, my first day of my internship was a bit of a haze. Beginning a little dazed and confused, after being introduced to all the programs, software and tasks I would be doing, I questioned if I had what it took.
As the guest and media relations intern, my job was to research, contact and schedule guests for Extraordinary Women TV. Connecting with women who had inspired me in my own life was a solid stepping stone to fulfilling the duties I was prescribed.
Over the past four months, I developed stronger communication skills and compiled a list of noteworthy contacts through my work. I am so grateful to have worked with Shannon and many of the women I connected with and learned from (and many who I personally met on the set of Extraordinary Women TV) such as Laura Serra, Founder of Paws for the Cause; Singer/Songwriter Suzie McNeil; the 2012 Olympic Women's Synchronized Swimming Team; and Lesley Lewis, CEO of the Ontario Science Center.
Along with my predominant responsibility of research and guest relations, I assisted with several multimedia projects, creating collateral materials, as well as photo and video editing. Fortunately, there was no typical day at my internship, which meant I was always presented with new and exciting projects and fascinating people to meet. Whether I was skimming across online new publications and picking up top media stories, or contacting guests and assisting in production at the studio, the experience of my internship is one I will always cherish. I even had the opportunity to pitch my first publicity piece to a media website, Notable.ca.
Working at Skinner Publicity and Extraordinary Women TV has given me the drive and determination to pursue the career I desire in public relations and allowed me to develop my writing, communication and media skills in the process.
— Carina Korab
Carina Korab is a stellar PR and communication intern who spent her summer working at Skinner Publicity and Shannon Skinner's Extraordinary Women TV. After four months of dedication and hard work, Carina has returned to her studies at Queen's University in Kingston, Ontario. Shannon misses her cheerful presence.
---