Tonight on Shannon Skinner Live: anti-aging secrets with beauty expert Vian Sharef
FOR IMMEDIATE RELEASE
TORONTO, June 16, 2015 — Tonight on Shannon Skinner Live radio show, host Shannon speaks with beauty expert and owner of Toronto-based Dermedix Laser Clinic, Vian Sharef, about beauty and anti-aging secrets. Tune-in to VoiceAmerica Women at 7pm EST/ 4PM Pacific.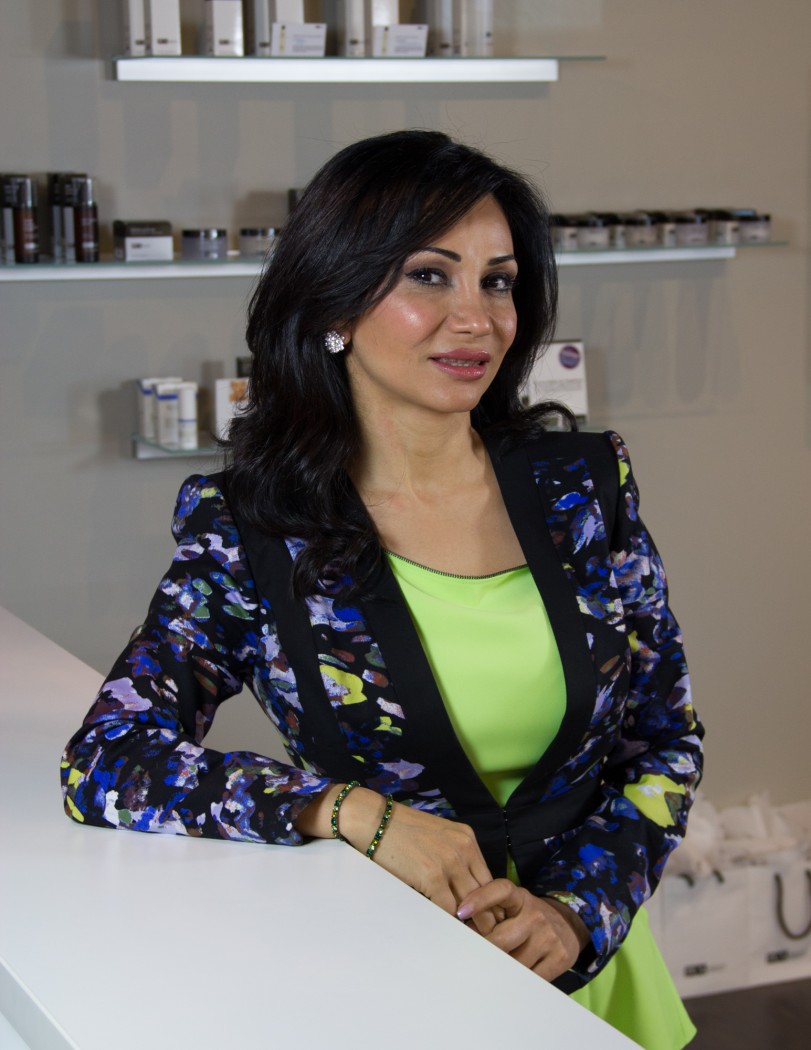 Vian Sharef, owner, Dermedix Laser Clinic
Shannon Skinner Live is a weekly radio show that uncovers the stories and solutions to living an extraordinary life and making this world a better place. It features interviews with experts, visionaries and activists, and more.
About Vian Sharef:
Vian Sharef is a single mother, beauty expert and the founder and owner of Dermedix Laser Clinic, based in Toronto. Born and raised in Iraq, Vian came to Canada as a teenager with her family, after living in a refugee camp for 3 years in Turkey. She would eventually achieve a successful career in the financial services industry  – and get married. Later, in 2008, life would have its challenges again. Vian lost her father, job and her marriage disintegrated within 6 months, and, as a single mother to a young daughter, she made the decision to go back to school to study medical aesthetics. Today, she is a successful businesswoman and has helped thousands of women and girls look and feel their best.
About Shannon Skinner:
Shannon Skinner is a Canadian television talk show host, speaker and writer. In 2010, she launched Shannon Skinner's Extraordinary Women TV, the first of its kind, as a live web TV show, and later developed it into an broadcast television show and online platform that is the ultimate online life-guidance resource for women. She is the author of the Whispering Heart: Your Inner Guide to Creativity; and she writes on a range of topics, including creativity, inspiration, feminine leadership, change and travel.
---
INTERVIEW: Eva Karpati, a champion of Toronto's everyday heroes (VIDEO)
Upon hearing some friends complain about Toronto after a local violent crime hit the news, Eva Karpati became determined to show the world that Toronto is a "wonderful city filled with amazing people." She wanted those people with a negative view of our city to see the positive side of Toronto. This gave her the inspiration to launch Good News Toronto, a publication that celebrates our local everyday heroes.
In my recent interview with Eva Karpati, publisher/editor, Good News Toronto, on my talk show Extraordinary Women TV with Shannon Skinner , she discusses the importance of telling "good news" stories, why she feels mainstream media perpetuates fear and what she is doing to change that. I invite you to watch the interview (below):
---
Check out my new "Get Known in the Media" events series
GET KNOWN IN THE MEDIA


with Shannon Skinner




E

vents

S

eries

Check out Shannon's upcoming live webinars and workshops to help YOU get known in the media and get more exposure.

Live Webinars:

P

ublicity

on a Shoestring

: D-I-Y



Do-it-

y

ourself

publicity:

You will

discover

the steps to get publicity for your business, produ

cts,

events – and rais

e

your public profile – to ultimately grow your business and increa

se sales

, including:

what you need to know about the media;

how to pitch a story idea; media relations Do's and

D

on'ts;

the right

media materi

als to consider;

tips on writing effective news releases

;

and preparing for media interviews. If you can't afford a PR agency and wish to "do-it-yourself," with

great

results, this webinar is for you.

How to Shine in Media Interviews

You will get tips on how to prepare for interviews

; how to

conduct yourself in radio and TV interviews; how to navigate difficult interviews with challenging journalists; what media are looking for; what is appropriate attire f

or TV – and what is not

; what you need to know about the journalist or talk show host in advance that will save you from disaster; and how to craft your message so it

goes from your heart

to the heart of your audience.

Position Yourself as an Expert



You will discover ways to position yourself as an expert and become a "go-to" authority for the media who are looking for stories relevant to your industry; how to be more "visible" in the digital and real world; and what you need to know about protecting and nurturing your public image and credibility in an age where everything is now public.

How to Create a Media Kit


You will discover what makes news criteria; how to develop a news hook; how write media materials that look professional, such as a news release, bios, backgrounders; samples of news release templates; writing tips for effective news release; get useful checklists; how to put all your media materials together; and more.



Workshop:
Toronto, Canada


How to Get Great Media: Find Your Voice, Raise Your Profile

You will discover tools to use the power of traditional and new media to raise your public profile, get known in the media, expand your sphere of influence and grow your business – including:


Media relations Do's and Dont's

PR and social media best practices


prepping for media interviews

creating captivating messages

speaking from your heart to the heart of your audience

being an effective spokesperson


positioning yourself for success in the marketplace

using vid

eo




speaking platforms

how to create a media kit




writing effective news releases

sample templates for n

ews releases and other

media mater

ials






Shannon Skinner

is an author,

inspirational speaker,

media consultant, and host of the talk show, Extraordinary Women TV with Shannon Skinner.

As an interviewer, Shannon has profiled hundreds of influential people and celebrities from across North America.

Shannon is the author of The Whispering Heart: Your Inner Guide to Creativity; and a regular featured contributing blogger to Huffington Post.

She has more than twenty years of public relations experience helping top organizations, experts
and celebrities get their messages out to their audience via the media.




©Shannon Skinner 2013. All rights reserved.

Watch one of Shannon's interviews:

Ariel Garten
CEO, InteraXon
(click on image to view)
---
Extraordinary Women TV announces guests for Rogers TV premiere

For Immediate Release
Extraordinary Women TV announces special guests for Rogers TV premiere
TORONTO, Jan. 5, 2013 – On Monday, Jan. 7, 2013 at 7:30 pm ET, Extraordinary Women TV with Shannon Skinner premieres on Rogers TV Cable 10 & 63 in Toronto/Scarborough. Shannon's special guests for this first episode are Toronto-based singer/songwriter, Sarah Slean, and actress, Sarena Parmar.
Sarah Slean has made eight albums, including her latest, the critically-acclaimed double-album, Land & Sea. She has starred in two short films and a movie musical, published two volumes of poetry and, as a visual artist, held exhibits of her paintings. She has written two string quartets and shared the stage with five of the country's leading orchestras. Slean has been nominated for three Junos, two Geminis, and her records have been released worldwide.
Shannon's second guest, actress, Sarena Parmar, has starred in the Gemini-nominated series, How To Be Indie, playing the role of Indie's older sister, Chandra Metha. Parmar has also guest starred in Degrassi: The Next Generation, Flashpoint and The Border, and the feature film, Radio Rebel. She is also an ambassador for "Because I am a Girl" program created by Plan Canada.
"These are two accomplished artists in their own right who share what inspires their hearts and how they achieved their success in my interviews with them," says Shannon Skinner, producer and host, Extraordinary Women TV. "I encourage Torontonians to tune-in and get inspired by their stories."
Extraordinary Women TV with Shannon Skinner is a first-of-its-kind web TV talk show that is an inspirational, relevant and informative resource for women who want to follow their hearts and dreams.
Shannon's guests are women – many high-profile — from a range of industries, including: arts and entertainment, business, finance, charities, eco, media, experts – and more. Some notable guests include: singers/songwriters Suzie McNeil, Sarah Slean, Selina Martin and Amy Sky; media personality/relationship expert Jen Kirsch; journalist/author Jan Wong; businesswomen Rebecca MacDonald and Kelsey Ramsden; game inventor Laura Robinson; actresses Sarena Parmar, Lisa Berry; Plan Canada's Rosemary McCarney; former Chatelaine editor Rona Maynard; among many others.
More than 170 one-on-one interviews with successful women from all walks of life, from Toronto and across Canada, have been conducted and archived since its inception in September 2010.
For full scheduling information, visit: www.rogerstv.com/ExtraordinaryWomenTV
For information, contact:
Shannon Skinner
Producer/Host, Extraordinary Women TV
416-576-8809 (cell)
shannon@skinnerpublicity.com
www.ExtraordinaryWomenTV.com
---