This Swiss hotel and thermal park is ideal for wellness travel: review
The healing and therapeutic benefits of hot springs has long been known. While hot springs and thermal baths can be found around the world, Switzerland has a unique thermal resort for those travellers interested in taking the plunge.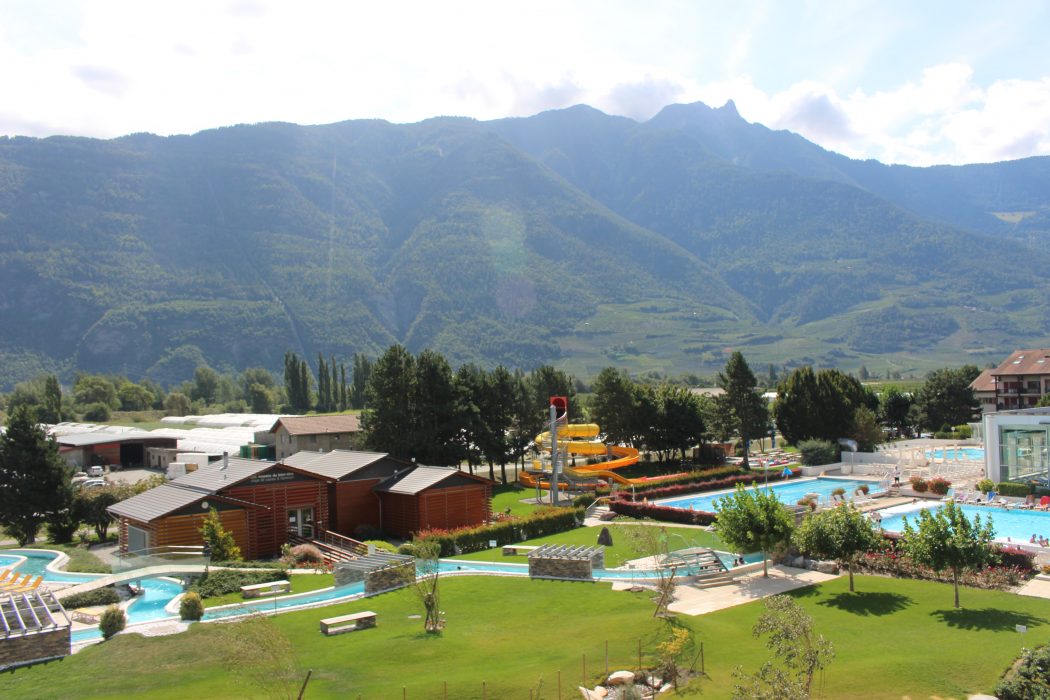 View from the hotel rooms overlooking the thermal park and spa buildings. All rooms have a terrace and southern exposure, for a breathtaking view of the Alps.
Les Bains de Saillon (the Baths of Saillon) hotel and thermal park is a large resort, located in Saillon in Switzerland's Valais region (between Sion and Martigny), in the heart of the Swiss Alps. It is set on a visually stunning property set alongside the famous Rhône river and surrounded by many vineyards and fruit orchards. It is mild enough that almonds and figs grow here.
"We are famous here in Switzerland," says Céline Antonioli, the hotel's catering and seminars manager, a friendly and energetic woman who oozes passion about the property and life in this warm yet slightly windy area of the Valais region. "And, of course, we also attract many international guests."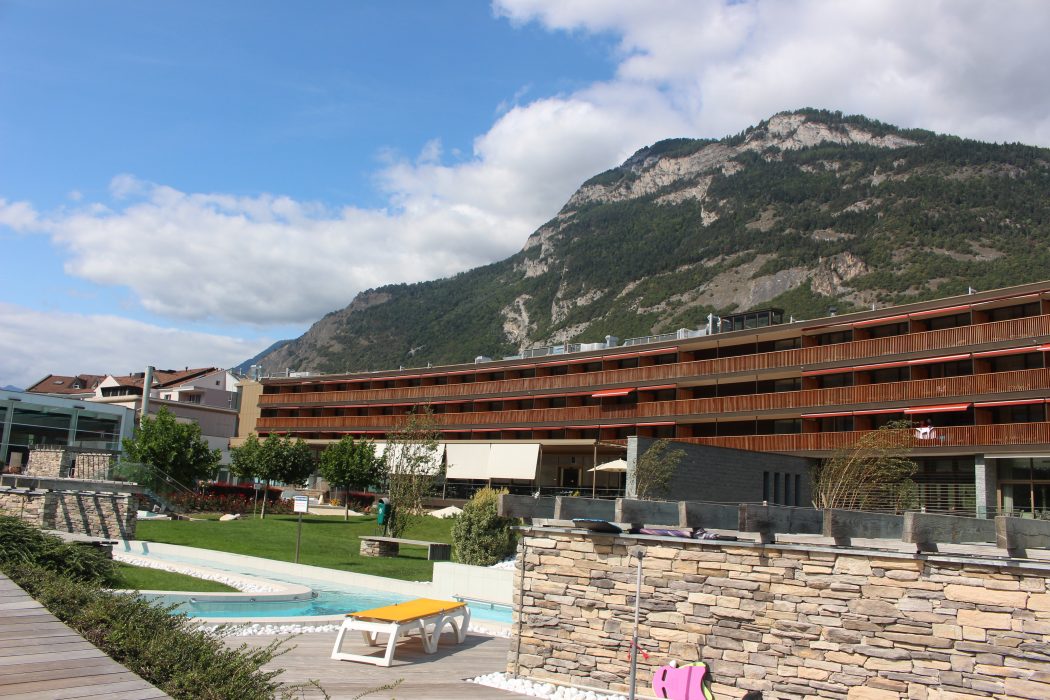 The newer building was designed with a curve to it
The complex is comprised of two buildings; one is a new hotel that opened a year ago. There are a number of heated pools, both indoor and outdoor. It has a thermal "river," and an almost Olympic-sized outdoor swimming pool. There is an area for children that includes a waterslide and small pool, for some family fun.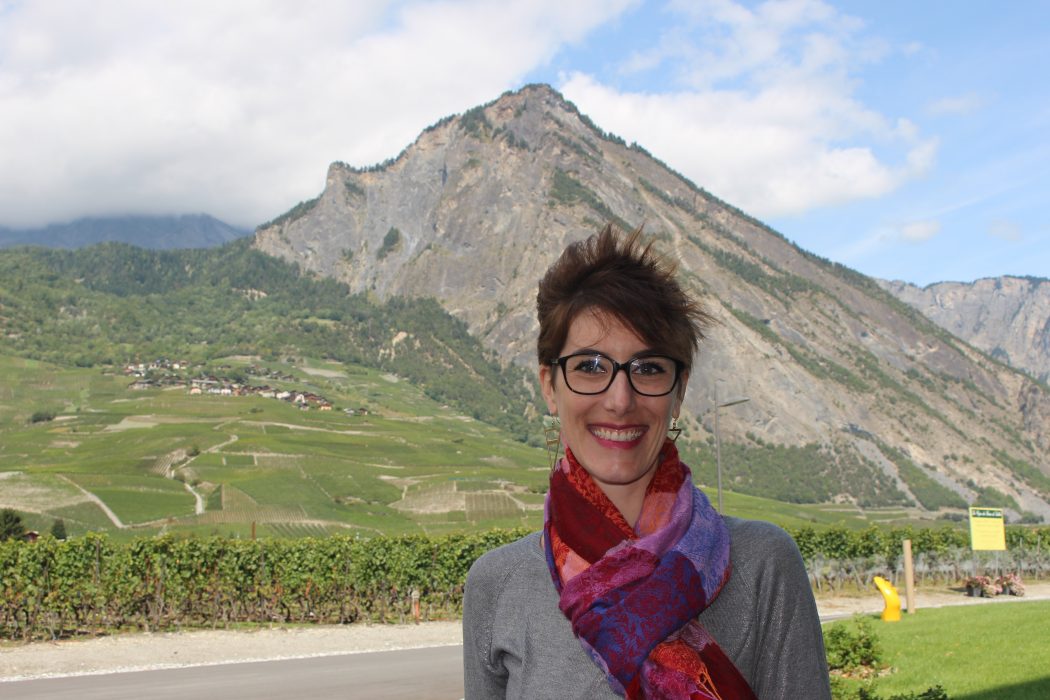 Céline Antonioli
And of course, there are several sauna options and a hammam, and a wide-range of spa services and fitness facilities. (Note: a "spa" in Switzerland means nude, so be prepared). Local Swiss products are used for spa treatments. Athletic visitors have access to a state-of-the-art fitness equipment and classes.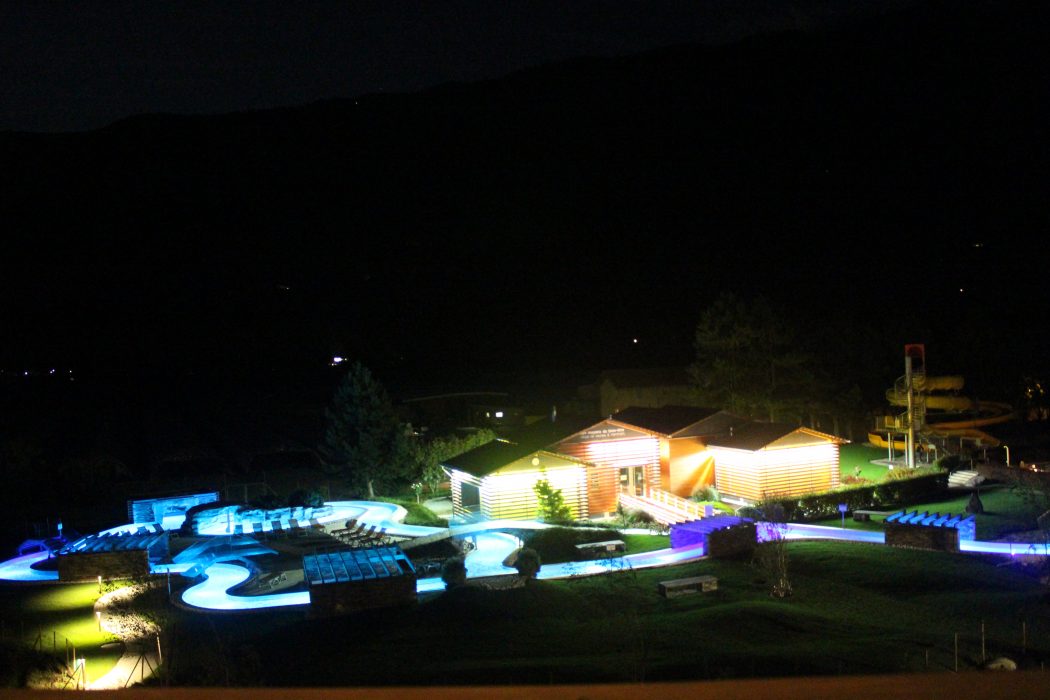 Night view of the thermal park and spa centre
The thermal park is available for use for the entire day, for both the public and hotel guests. Many visitors, from professional athletes to families to tourists, come to enjoy the enormous thermal park. They sees more than 1,000 guests per day (at the minimum). For security purposes, guests are provided with a wrist-band with an electronic "chip" to access the facilities.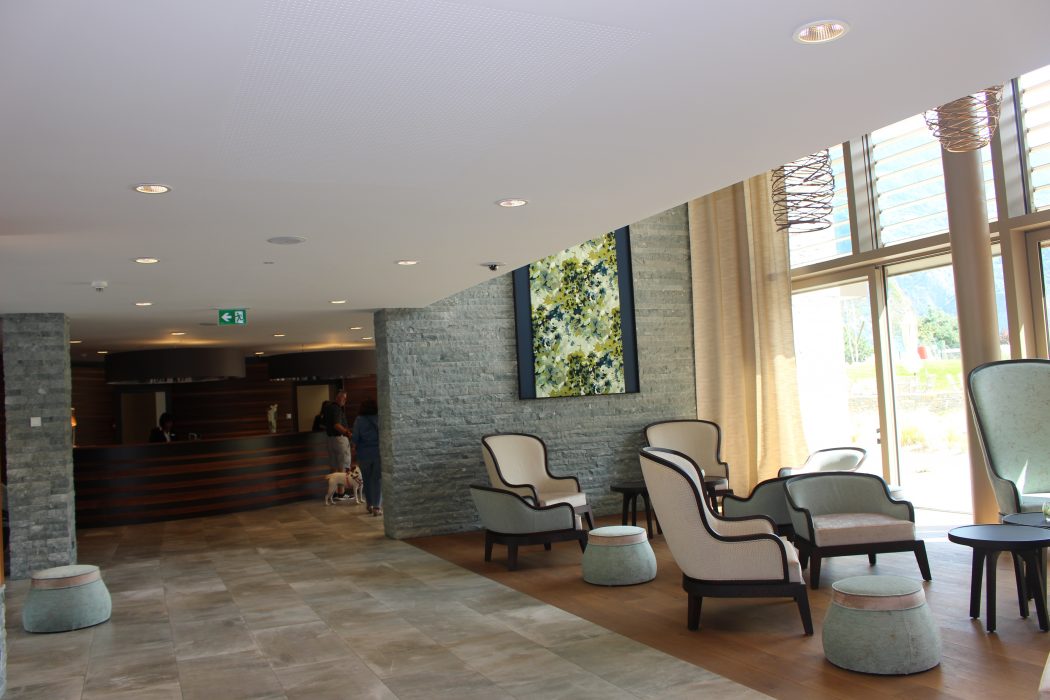 Hotel lobby is bright and contemporary
The resort has 148 rooms, 6 themed restaurants (from pizza to burgers; one is self-serve with direct access to the swimming area) and free outdoor parking. There are also rental studios and apartments. Best of all, it has a breathtaking view of the Swiss Alps.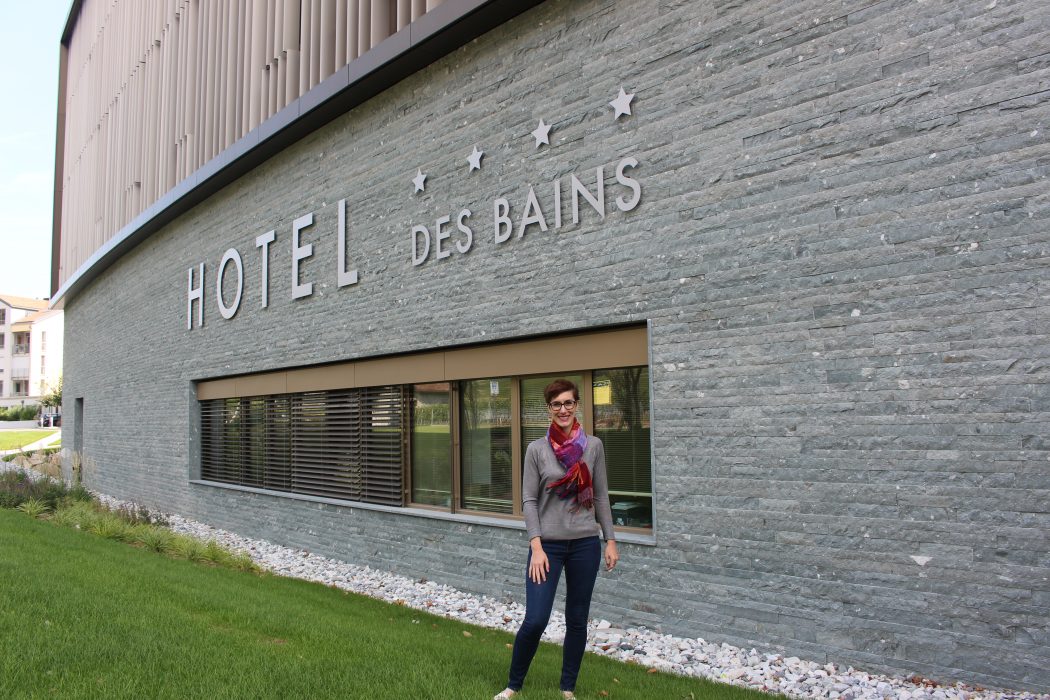 Céline Antonioli, in front of the new hotel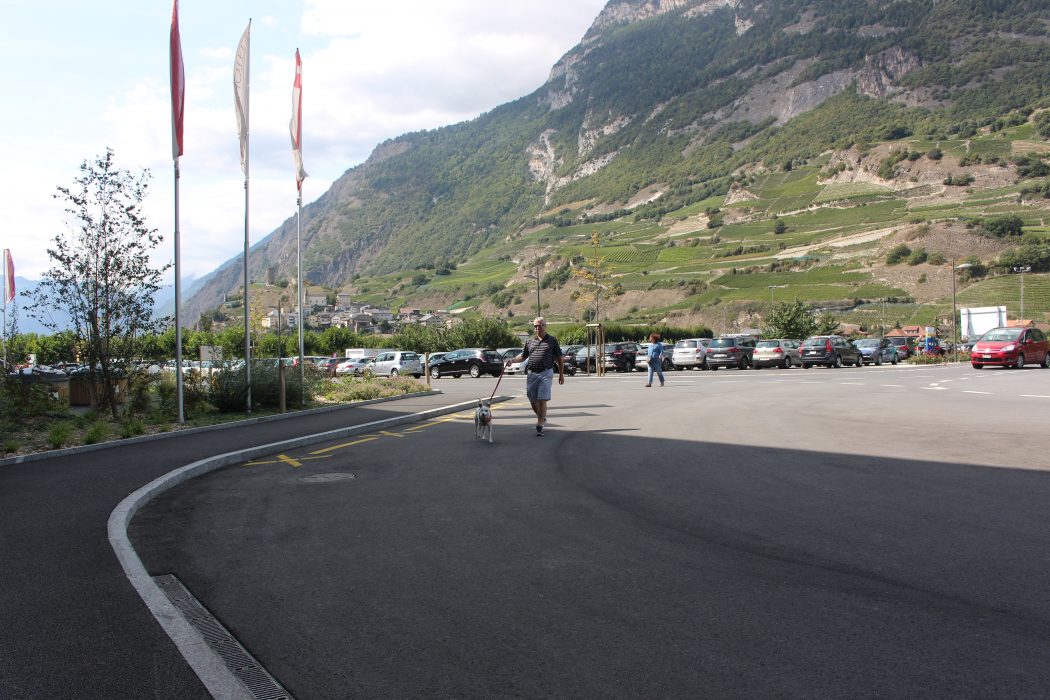 Guest arriving with a friendly dog for their stay at the hotel
Dogs are welcomed here, as the property is pet-friendly. I saw a few dogs happily enjoying themselves. "They can go anywhere, anytime," adds Antonioli.
As for my thermal bath experience, I truly enjoyed swimming and relaxing in the pools. The water was not too hot. I understand they have to heat the spring water to make it warm enough for the therapeutic properties. There was not a big crowd. I could swim around indoors and then jump into the outdoor pool, and go back inside when it got chilly (hey, it's September after all). The hotel provides a bathrobe and slippers for guests to walk to the baths. (note: I did not take my camera into the spa facilities for privacy purposes, so I don't have photos of the pools to post here – please see the hotel's website).
Overall, Les Bains de Saillon is contemporary and comfortable, and relaxing, and its facilities were designed for guests to destress and family fun. It worked for this writer!
Getting there?  I flew from Toronto to Geneva. With my Swiss Travel Pass, I then took a train from the Geneva airport (to Martigny) and a bus (2 hours). The bus stop is right in front of the hotel. Super easy, safe and quick!
Salle "Pierre à voir." This room is available to rent for events.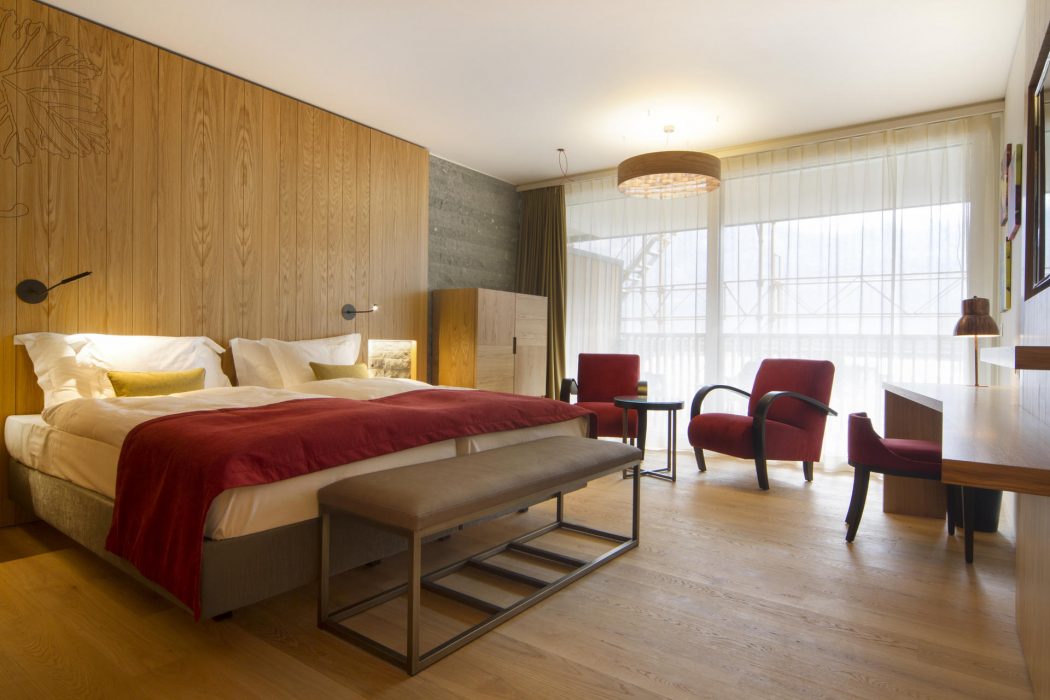 Deluxe contemporary bedroom in new hotel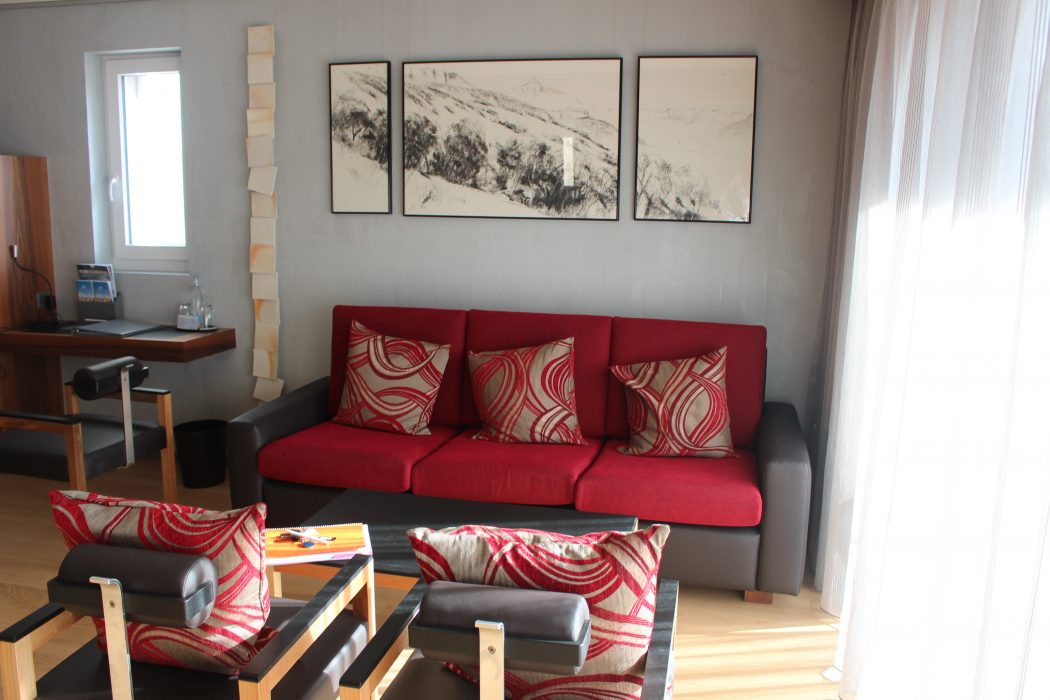 Just to compare, this is a family suite in the former hotel. A different style. Nice & functional.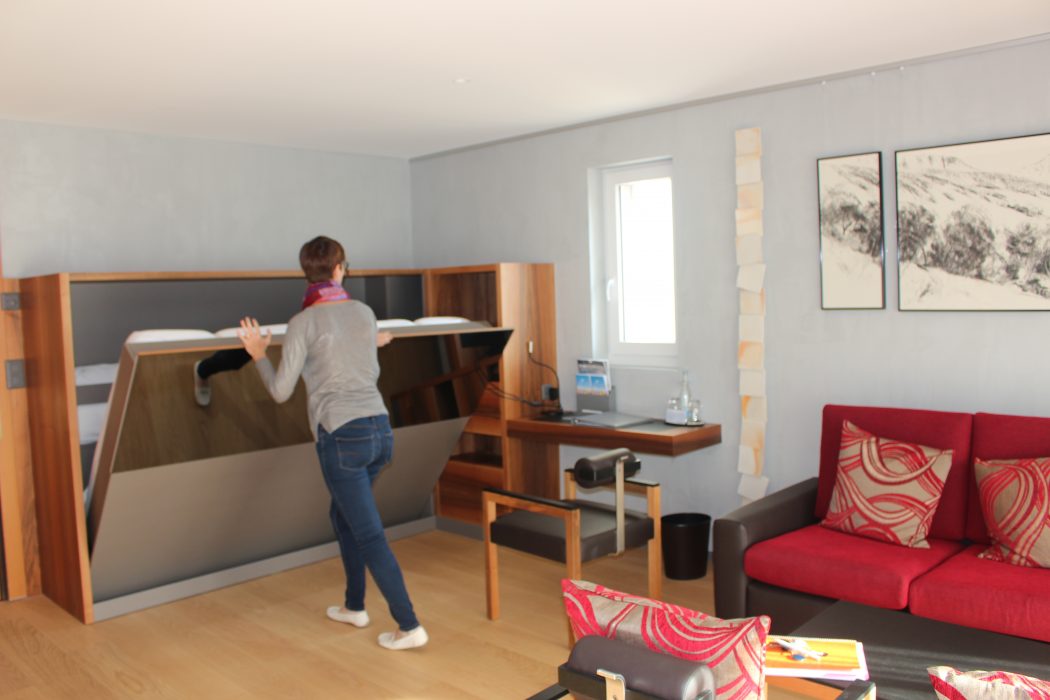 Functional furniture that is also a hidden bed.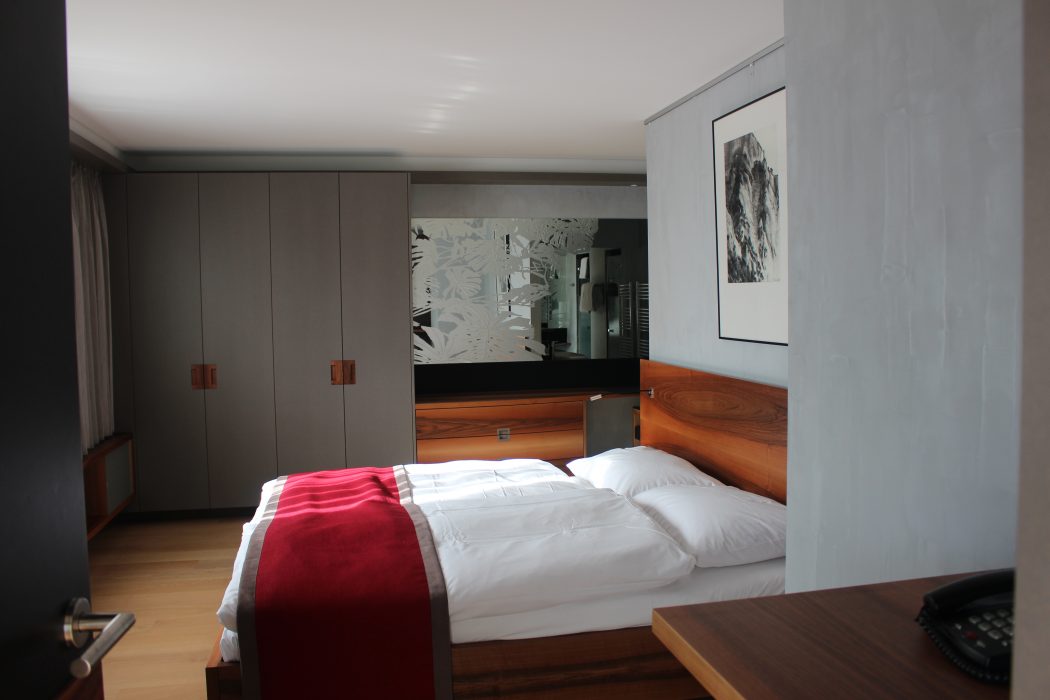 Suites have lots of space for parents and kids to share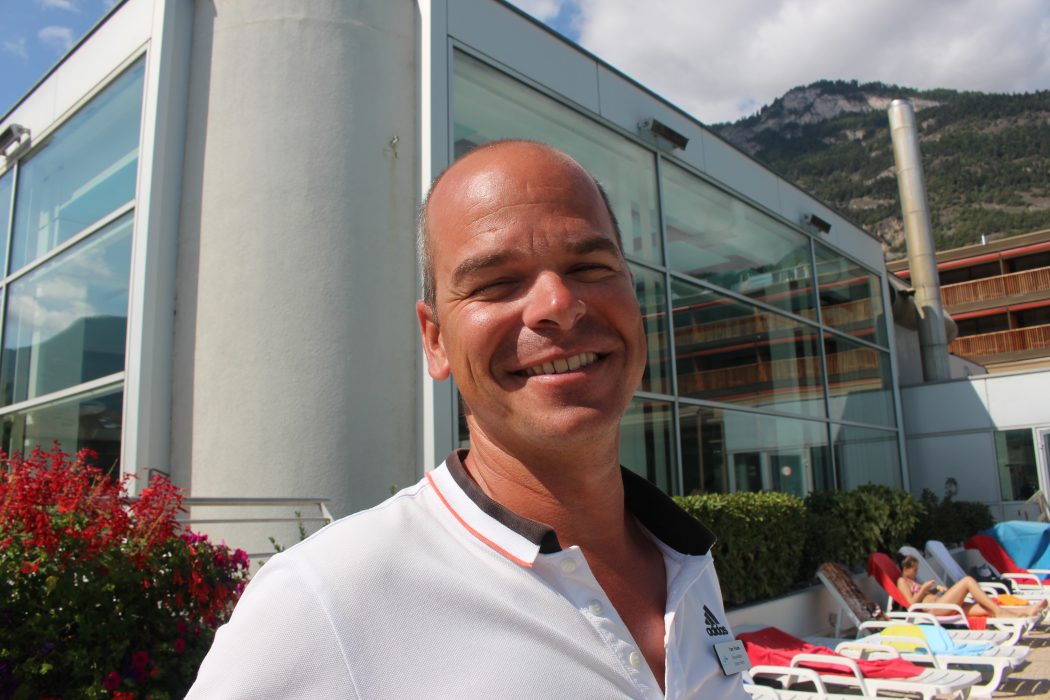 Thermal park manager extraordinaire
—
DETAILS:
Price From: $ 300-475 Cdn (pax) for a double room "Superior;" and $ 350-520 Cdn (pax) for double room "Deluxe" in the new hotel (inquire about rates and specials). Includes breakfast and access to thermal park.
Who goes? It well-known in Switzerland, so it attracts many local Swiss guests, but also international guests; business travellers, as well as couples, singles and families.
Style/Character: A stylish, luxury hotel, 4-star, contemporary. It is owned by the BOAS-Swiss Hotel Group.
Service/Staff: Courteous, helpful and professional staff, and excellent service. Restaurants were speedy with food service.
Rooms: 148 rooms and suites; all contemporary, stylish, luxurious and comfortable. All rooms (range from standard to family suites) have a terrace and offer magnificent views of the Alps. Includes a small coffee machine, room cleaning service, large bathrooms that are well-lit, bathrobes and slippers for going to the spa, and lots of closet space. WiFi is free in the rooms.
Food/Drink:  There are six on-site options:
e Restaurant des Baigneurs: self-service with direct access to swimming pools
La brasserie: a nod to the famous "Café de Flore" in Paris
La Carnotzet: Valais specialties in a "chalet" ambience
La Pizzeria "Piazza Granda:" pizza/pasta on an "All'Italiana" village square
La Treille: snacks and relaxation in the shade of a pergola
Le Swiss Burger Bar: delicious homemade burgers
L'Espace Gourmand: the Chef's specialties for connoisseurs
Salle "Pierre à voir:" for small and large banquets
The wine list has Swiss wine options; available for viewing on the website, along with the restaurant menus.
Amenities:  On-site fitness centre, business centre (fax/photocopy), hair salon, podiatrist/pedicurist, physiotherapist, and rooms are available for rental for special events.
Women traveling solo-friendly: Yes.
Family-friendly: Yes
Disabled Access: Yes
Pet-Friendly: Yes (dogs can go anywhere, anytime, even in the restaurants). A small, extra charge applies.
Local shopping: Not a shopping destination. Nearby is the tiny historical old town of Saillon, about 20 mins. walking distance. There is a small gift shop in the complex.
What not to miss: a spa treatment.
Nightlife: If you are seeking an exciting nightlife, you will need to find another spot.
Value for Money: At a minimum room cost of approximately $ 300 Cdn, you get excellent services, comfort, convenience of spa and fitness services, in a new facility and a peaceful setting with a breathtaking view.
Reservations: https://www.bainsdesaillon.ch/en/
Location: In Saillon, Valais, 146 km from Geneva (between Sion and Martigny). Address: Route du Centre Thermal 16, 1913 Saillon, VS – Suisse, Switzerland | +41 (0)27 602 11 11 | +41 (0)27 602 11 52
Resources: Valais Tourism and Switzerland Tourism.  Hotel chain: BOAS-Swiss Hotels. Swiss Travel Pass: click here.
I was a guest of Les Bains de Saillon and Valais Tourism. Opinions are my own.
Shannon Skinner is an award-winning broadcaster, international speaker, author, travel writer and wine specialist. Tweet to her at @Shannon_Skinner.
---
Tonight on Shannon Skinner Live: anti-aging secrets with beauty expert Vian Sharef
FOR IMMEDIATE RELEASE
TORONTO, June 16, 2015 — Tonight on Shannon Skinner Live radio show, host Shannon speaks with beauty expert and owner of Toronto-based Dermedix Laser Clinic, Vian Sharef, about beauty and anti-aging secrets. Tune-in to VoiceAmerica Women at 7pm EST/ 4PM Pacific.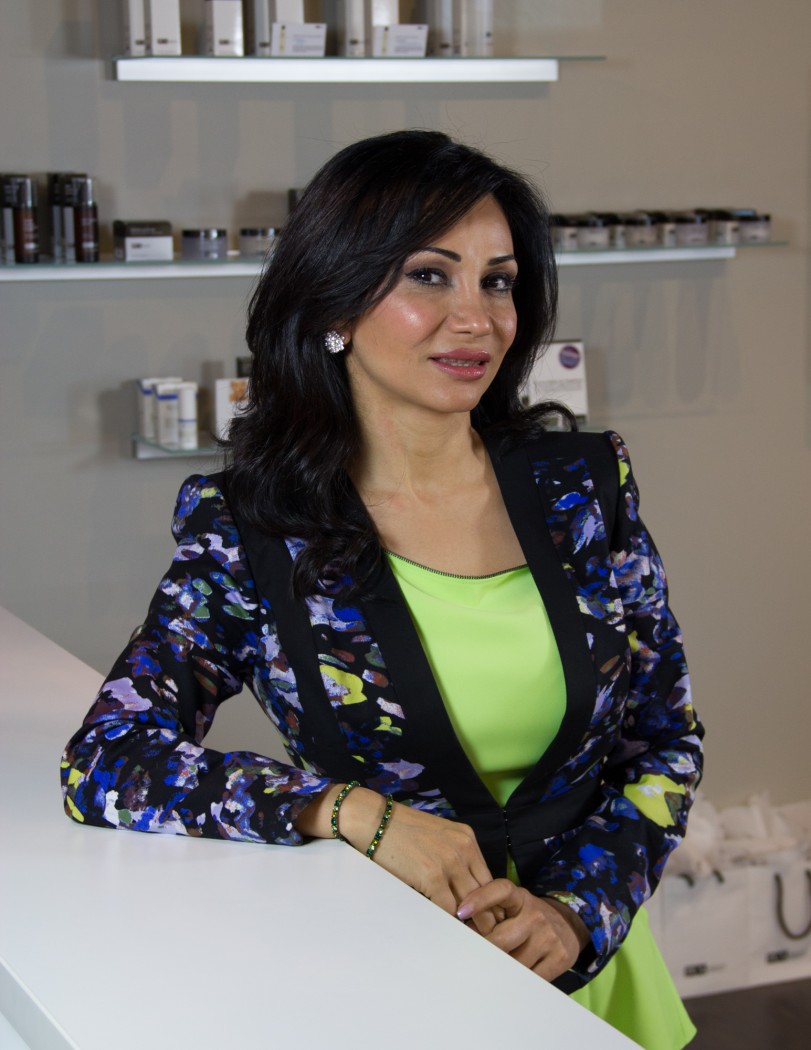 Vian Sharef, owner, Dermedix Laser Clinic
Shannon Skinner Live is a weekly radio show that uncovers the stories and solutions to living an extraordinary life and making this world a better place. It features interviews with experts, visionaries and activists, and more.
About Vian Sharef:
Vian Sharef is a single mother, beauty expert and the founder and owner of Dermedix Laser Clinic, based in Toronto. Born and raised in Iraq, Vian came to Canada as a teenager with her family, after living in a refugee camp for 3 years in Turkey. She would eventually achieve a successful career in the financial services industry  – and get married. Later, in 2008, life would have its challenges again. Vian lost her father, job and her marriage disintegrated within 6 months, and, as a single mother to a young daughter, she made the decision to go back to school to study medical aesthetics. Today, she is a successful businesswoman and has helped thousands of women and girls look and feel their best.
About Shannon Skinner:
Shannon Skinner is a Canadian television talk show host, speaker and writer. In 2010, she launched Shannon Skinner's Extraordinary Women TV, the first of its kind, as a live web TV show, and later developed it into an broadcast television show and online platform that is the ultimate online life-guidance resource for women. She is the author of the Whispering Heart: Your Inner Guide to Creativity; and she writes on a range of topics, including creativity, inspiration, feminine leadership, change and travel.
---
Tonight on Shannon Skinner Live: Rev. Darcelle Runciman and Reeti Mishra on VoiceAmerica Women
FOR IMMEDIATE RELEASE
TORONTO, June 9, 2015 — Tonight on Shannon Skinner Live radio show, host Shannon speaks with guests Rev. Darcelle Runciman, ordained minister, founder of Infinity Centre wellness retreat, and magazine publisher, about Metaphysics and healing. And Reeti Mishra, born and raised in India, who now lives in Toronto with her husband, about life as a diplomat and living in many place around the world, Hinduism, and why forgiveness is something we all need to practice. Tune-in to VoiceAmerica Women at 7pm EST/ 4PM Pacific.
Shannon Skinner Live is a weekly radio show that features interviews with experts, visionaries and activists, dedicated to helping people live their magnificent lives and making this world a better place.
About Rev. Darcelle Runciman: Rev. Darcelle Runciman is an ordained minister with a degree in Metaphysics, and founder of The Infinity Centre, a wellness and spiritual retreat centre, based in Stirling, Ontario. She is also a spiritual and business coach, and publisher of Infinity Magazine, a publication for spiritually-connected individuals, travellers and businesses.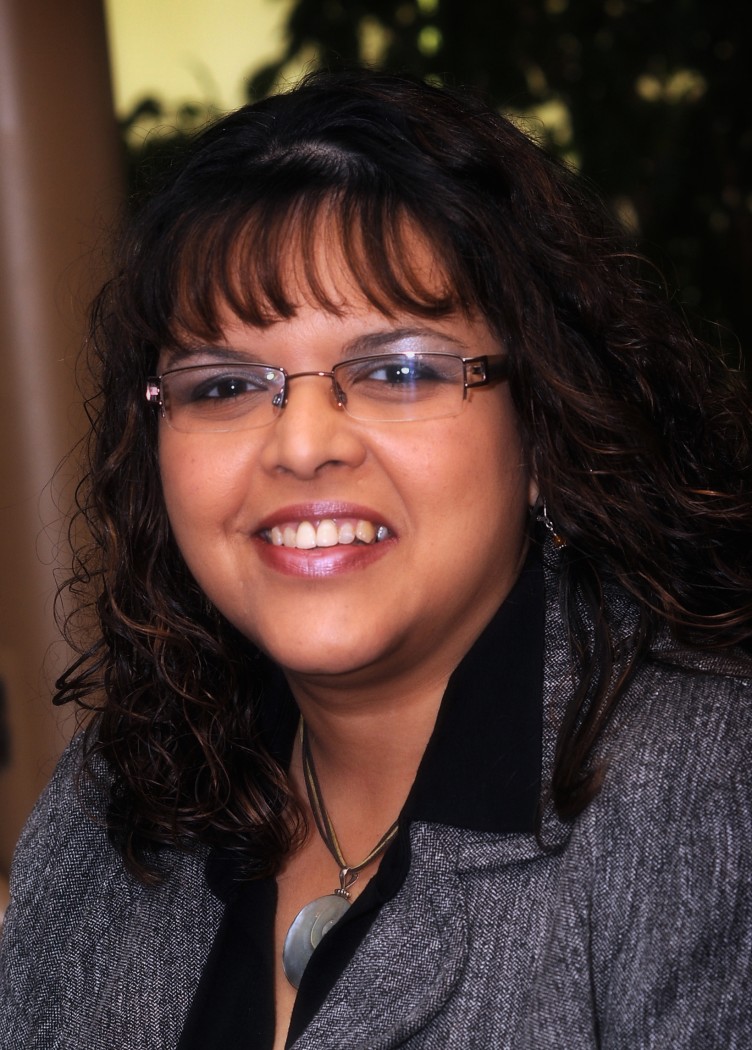 About Reeti Mishra: Reeti Mishra is a motivational speaker, educator, writer, poet and president of the Consular Spouses Association in Toronto. She is actively involved in various community services as a member of diplomatic and consular organization in many countries. She is passionate about yoga and spirituality, speaks 5 languages, and has traveled and lived in Peru, Italy, Nepal, US, Afghanistan, Tanzania and Canada – where she is based.
 Shannon Skinner is a Canadian television talk show host, speaker and writer. In 2010, she launched
Shannon Skinner's Extraordinary Women TV
, the first of its kind, as a live web TV show, and later developed it into an broadcast television show and online platform that is the ultimate online life-guidance resource for women. She is the author of the
Whispering Heart: Your Inner Guide to Creativity;
 and she writes on a range of topics, including creativity, inspiration, feminine leadership, change, lifestyle and travel.
---
Girlfriend Spring Weekend Getaway at Horseshoe Resort
Grab Your Girlfriends for a Spring Weekend Getaway!
Gather your besties for a weekend of fun, food, fitness, wine tasting, dancing and bonding. Introducing a girls' only weekend trip at Ontario's Horseshoe Resort on April 17-19th. It includes an opening Women, Wine & Chocolate reception, four fitness classes, gourmet breakfast, workshops hosted by Women in Biz Networking, dinner, and a live taping of Shannon Skinner's Extraordinary Women TV. PLUS entertainment from Canadian comedian, Jessica Holmes. 

Girlfriends' getaway is the ultimate celebration of friendship offering ladies a chance to relax, unwind, reconnect and getaway for fun, laughter and women empowerment.
Join us at Horseshoe Resort (located near Barrie, just 45 mins north of Toronto).
For information and to purchase your tickets:
http://www.horseshoeresort.com/girlfriends-getaway-package.htm
---
Got the February blahs? Try these.
Canadians know how challenging the month of February is. March is not much better. After months of low light, shoveling snow and enduring frigid temperatures (unless you live in Vancouver, in that case, stick it!), we start to get cabin fever from hibernating.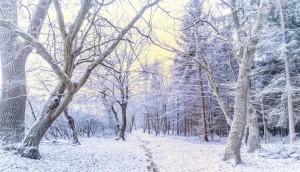 Something I have noticed in my own life is that after hanging up my downhill skiis more than a decade ago, I stopped enjoying winter. I tend to stay in more and by the end of February I'm going squirrelly. For exercise, I do walk my dog several times a day and jog on the days when my lungs and face won't hurt, but it is not enough. Going outside is a big effort. By now, I need an attitude adjustment. My guess is that others do, too.
Here are some ways to get over the February blahs and cabin fever, as we go into the last stretch of winter.
When it's cold outside, be warm and sunny from the inside: Go into your heart more. Do the things that warm your heart and make your light shine and radiate. Maybe it is helping out at a soup kitchen, or cooking a meal for your elderly neighbours, or a random act of kindness.
Create an inspiring space: Our environment directly impacts our creativity and productivity. Low light tends to create lower moods. So brighten up your interior, both literally and figuratively. Create an inspiring space where you do your creative work. Colour plays a huge role. Paint your walls vibrant colours such as red, yellow or orange – or calming ones like baby blue. Enhance your space in a way that is inspiring to you — and maybe it will inspire others.
Buy new art: If you already collect art, take stock of what you have. Consider trading or buy new art. Start a new collection of artifacts or other items that have meaning to you and place them in your creative space. Perhaps it is from your travels. Or make your own art to hang on the wall.
Listen to music to lift your spirits: Listen to the kinds of music that pick up your energy, spirit and mood. Music impacts our energy level. I personally love opera and, this weekend I, fought the snow to see the Canadian Opera Company's production Don Giovanni, at the Four Seasons Centre. The way the music made me feel was worth fighting the snow to get there.
Get outside to play: If you can't beat 'em, join 'em! I write this at the risk of being pelted with snowballs…Even if you are not athletic, get outside to play as much as possible. Go for walks, even if they are short. Play winter sports. Go tobogganing. Remember the fun you had as a kid and try to re-create that feeling.
Take a class: As a forever student, I am always taking a course of some sort. Taking courses forces us to get out of our spaces, meet new people, we learn something new – and it keeps us engaged. Consider taking a photography, cooking or language course.
Get some sunshine: We all crave fleeing from the Canadian cold into warmer, sunnier climates. So find a travel deal and go somewhere new, whether it is basking on a beach or a wellness retreat, or taking a course, such as Spanish, in a place that inspires you.
Photo credit: Andreas Krappweis
Shannon Skinner is an award-winning inspirational speaker, writer, and host and producer of the television and online series www.ExtraordinaryWomenTV.com.
This article was originally published at HuffingtonPost.com.
---
Season 3, Episode 4 airs tonight on Extraordinary Women TV on Rogers TV
FOR IMMEDIATE RELEASE:


TORONTO, Nov. 18, 2014 – Season 3, episode four, of Extraordinary Women TV with Shannon Skinner airs tonight featuring special coverage and interviews from the Canadian Beauty Innovation Awards. Shannon speaks with Natalie Lewis, founder, Canadian Beauty Innovation Awards; Linda Leatherdale, VP Marketing and Business Development, Cambria and financial columnist; Mary Tripi, hair stylist icon and entrepreneur; and Academy Award-nominated actress and wellness advocate, Mariel Hemingway. Also featured are interviews with founder and executive director, Re-Think Breast Cancer, MJ DeCoteau; and renowned Toronto artist, Beverley Jenkins.
The show airs tonight at 7pm ET on Rogers TV Cable 10/63 in Toronto/Scarborough.
The show aims to empower women get their dreams into action by providing the tips and tools from some of today's most extraordinary women. This season, Shannon goes on-location around the city of Toronto to speak with women from a range of pursuits about their passions and challenges — and how they overcome them.
Now in its third season on Rogers TV, the television series began as a live web TV talk show for women in Canada, and has grown into an inspirational, relevant and informative resource for women who want to follow their hearts and dreams, and live extraordinary lives. In January 2013, the show began airing on Rogers TV in Toronto/Scarborough, with 46 episodes being produced and aired over the first two seasons. The show has also aired in several other Rogers' Ontario markets. And last season featured the "Woman to Watch" regular segment.
Shannon's guests are women from all walks of life and industries, including: arts and entertainment, business, charities, media, sports, experts – and more. Some past notable guests include: entrepreneur Debbie Travis; singers Jully Black and Sarah Slean; philanthropist, The Hon. Margaret McCain; dean of law faculty at the U of T, Mayo Moran; fashion designer and Canadian icon, Linda Lundstrom; president/CEO, ROM, Janet Carding; Rebecca MacDonald, founder, Just Energy; actress Sarena Parmar; Plan Canada's president/CEO, Rosemary McCarney; among many others.
Nearly 300 episodes have been posted and archived on the web for public access since its inception in September 2010, when it began as a live web TV series, and 52 episodes have been produced to-date for Rogers TV. Extraordinary Women TV is produced and owned by Shannon Skinner and Comfy Chair Productions Inc., and is filmed in Toronto.
Rogers TV Toronto's full scheduling information: click here.
---
Horseshoe Resort's Fit Chicks fitness retreat
SHANNON'S TRAVEL BAG: Travel Tips for Women
Shannon Skinner takes in Horseshoe Resort's Fit Chicks fitness retreat.
_____________
This Spring, I officially became a "chick" — not a term I would associate myself with since, well, when I was sporting short skirts and Dr. Martens boots many moons ago. That all changed when I joined dozens of women at Horseshoe Resort's Fit Chicks fitness retreat, organized by Fit Chicks, a Toronto-based, women's-only fitness and healthy lifestyle company, which took place on March 21-23, 2014. The participants, or "chicks" as we would be called, came from across Ontario and were of all ages, shapes and sizes. From enthusiastic marathon runners to career women to stay-at-home moms, we all became chicks on a journey of health and wellness.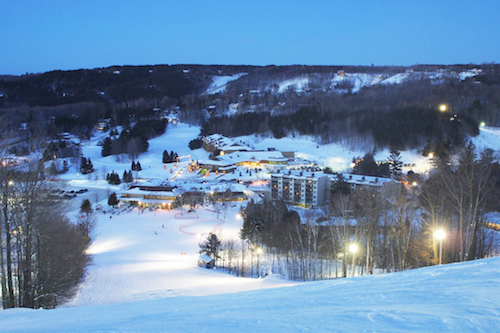 (Horseshoe Resort)
When I first learned of
Horseshoe Resort's Fit Chicks fitness retreat,
the idea of spending a weekend focusing on my health and nutrition at an adventure-oriented destination that is driving distance from my home spoke to me. And while I had skied at Horseshoe many times in years past, I had never stayed at the resort, which has recently undergone renovations and expansion (with more in the works), and it seemed like the perfect time to experience it.
"What inspired us to create weekend health retreats was that there was nothing like this out there," says Amanda Quinn, co-founder of Fit Chicks, which she founded in 2008 with friend, Laura Jackson. "There are plenty of weekend yoga retreats, but no weekend getaways focused on overall health and wellness for women that encompass a variety of fitness classes, or nutrition workshops and wellness aspects including meditation and yoga. We know from our own experiences that without embracing all areas of wellness, you be left off-balance and not able to fully reach your potential and goals."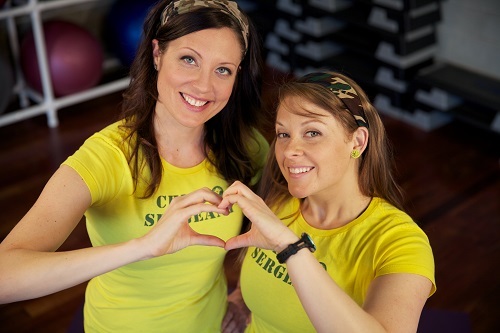 (Fit Chicks Laura Jackson and Amanda Quinn)
Located only about one hour north of Toronto,
Horseshoe Resort
, known for its multitude of four-season activities. "Horseshoe Resort approached us about using their property and outdoor offerings as our 'Canadian gym,'" says Laura Jackson, Fit Chick co-founder. "It was the perfect location for our chicks.
The Horseshoe Resort's Fit Chicks' fitness retreat package included: a Zumba fitness party, an outdoor fitness challenge, a guided snowshoe hike, a range of indoor fitness classes such as interval-training, yoga, workshops on nutrition and meditation workshops, healthy "Fit Chicks-certified" meals and snacks, and two-nights accommodations at Horseshoe Resort. At a package cost of $499 (per person), the Horseshoe Resort's Fit Chicks fitness retreat is great value.
Beyond the retreat, Horseshoe Resort offers adventurous activities such as treetop trekking, Yamaha riding and Segway adventures, Hummer tours, skiing, snow tubing, snowshoeing, mountain biking, and horseback and pony rides. As well, its Adventure Park offers family-friendly activities like a rock climbing wall, a Ogo run (like zorbing), bungy and a zip line, and more.
Says Horseshoe Resort's General Manager, Sean Billing, a man who speaks passionately about his job and lifestyle choice: "Fit Chicks' retreats not only align perfectly with the healthy, active life-style that the resort promotes, it exposes our products and services to key decision-makers. The 'chicks' who participate bring family, friends and meetings to the resort."

(Horseshoe Resort's Treetop Trekking)
Fit Chicks
' founders, Laura Jackson and Amanda Quinn, have been friends since Grade 9. Like so many teens, they both experienced body and self-esteem image issues, until an "aha" moment years later would have them leaving corporate jobs for an inspired journey of helping thousands of women change their lives – from the inside-out. Today, Fit Chicks offers 8-week, award-winning bootcamp-style programs at more than 20 locations across Canada; as well as weekend fitness retreats, at-home workout DVD's, personal training, nutrition counseling and more. They are hosts of
Shape Up with Fit Chicks on Rogers TV
, and provide free resources on their blog (
fitchicks.ca
).
"Our overall vision for Fit Chicks is to spread our healthy love around the world," says Jackson, who has been preparing for her first fitness bikini competition. "We want to help every woman feel excited and empowered to take control of their healthy journey.
I had the opportunity to speak with several 'chicks' about their experiences. Some came to lose weight; others to get back their fitness mojo after the long winter. Such as Lisa Purves, a 40-year old insurance industry professional and avid marathon runner who lives in Toronto with her husband. This was Purves's fourth Fit Chicks' retreat. "I loved the idea of a weekend devoted to fitness, healthy food and wellness, and I had never been to Horseshoe Resort before," says Purves. "It's been a great way for me to try some winter activities I hadn't tried before, like snowshoeing. Although I know a lot of the attendees come for a girls getaway, I look forward to these retreats as the perfect 'me' weekend."
Grace Lang, a Beamsville, Ontario resident who works in Toronto as a chartered accountant, was searching for a fitness retreat when she came across Fit Chicks' website. For Lang, the highlight of the retreat was the outdoor challenge. "I'll never forget the 'building a snow chick' challenge where one of my teammates used her bra for it. That was teamwork — and we won."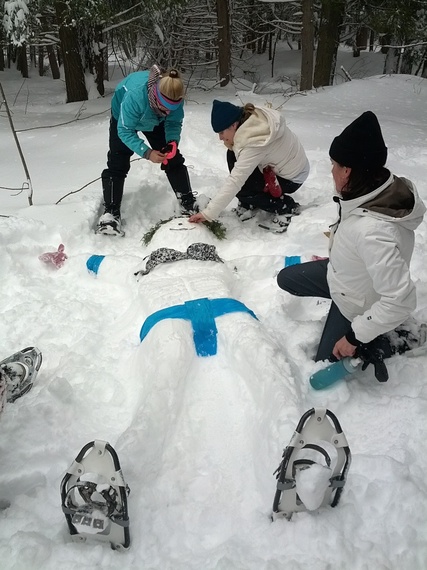 (Fit Chick retreat participants building a 'snow chick')
I personally got a lot out of the nutrition workshops, conducted by Jackson, an avid cook and lover of whole food. "Cooking is probably the biggest lost art in our society," says Jackson. "It used to be about celebration, but now it's about counting calories. You need to start with a food philosophy." That food philosophy, says Jackson, is as simple as eating food grown and made with love (think
Like Water for Chocolate
). Watching Jackson demonstrate how to make almond milk, and whipped frozen banana and peanut butter that tastes like ice-cream, but without the fat and calories, while sharing invaluable nutrition facts truly encouraged me to learn more about how to best eat whole, or "clean," food.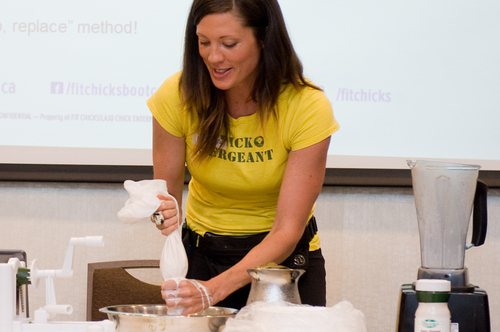 (Laura Jackson demonstrating how to make almond milk)
And fellow chick, Silvia Alonzi, a Torontonian who is self-employed and mother of 2 daughters in university, attended with her sister and had this to say: "It was a great experience with female bonding, fun workouts, positive attitudes and delicious food — what's not to love?"
To complete my fitness weekend, I experienced another gem of Horseshoe Resort: Shizen Spa, the signature spa brand of the resort's owners, Skyline Hotels and Resorts (all four properties have a Shizen Spa, the name inspired by the Japanese word for nature). I had the spa's signature pedicure that included exfoliating my skin with a lotion that contained raspberry seeds, a massage with hot stones, followed by dunking my feet in warm, squishy paraffin wax. Sitting in a chair overlooking the resort's indoor swimming pool area, it was a super relaxing 75 minutes. It is great value for $80 and the perfect ending for a fitness weekend, leaving me with happy feet indeed.
If you are interested in attending a women's fitness retreat, be sure to check-out Horseshoe Resort's website for the upcoming Fit Chicks' summer retreat in June 2014.
About Horseshoe Resort: Horseshoe Resort is an inviting Ontario destination offering four seasons of fun for thrill-seekers and adventurers alike, comprising 29 slopes and 35 km of groomed Nordic trails, two award-winning golf courses, a full-service Shizen Spa, 140 guest rooms, two restaurants, and 13,000 square feet of meeting space. Owned by Skyline Hotels and Resorts, it is conveniently located just an hour north of Toronto, and has newly renovated guest suites, eclectic dining options and outstanding outdoor activities.
Shannon Skinner is the Executive Producer and Host of Extraordinary Women TV, an author, speaker and media consultant, and writes the occasional series of travel articles for women.
* photos of Horseshoe Resort courtesy of Horseshoe Resort; all other photos courtesy of Fit Chicks
---